Stop the recurring KPI discussions
KPIs continue to occupy minds in many organizations. Whether it's the definition (is it sharp enough), data quality, visualization on a dashboard, ownership on KPIs (aren't we all responsible) or organizational culture. With the SMART KPI Toolkit 2023 you get quick answers to a range of questions:
How and where do you quickly find the most essential KPIs in your organization and how do you define them?
Which KPIs are particularly important for your company and what is the relationship with your revenue model?
How do you determine the critical success factors behind the KPIs and how do you steer on them?
How do you get your people on board with KPI steering and what is going on in the change management side of things?
How do you set standards and targets in a smart way so that the goals are clear and remain relevant?
What practical methods are there to define performance indicators (SMART goals meaning) and which do you apply in which situation?
How do you identify and visualize "high impact" insights and predictive KPIs and how do you prepare your organization for algorithms and AI?
How do KPIs fit into the PDCA improvement cycle and then how do you set up a PDCA model?
What is needed to create a clear and user-friendly dashboard? What are the basics of effective data visualization?
What else is needed to improve your processes, optimize the chain and innovate with pure KPIs?
Are you wrestling with one or more of these questions and do you want to finally be liberated from the ever-recurring KPI discussions? Then quickly download the SMART KPI Toolkit and get started today.
Theoretical model combined with practice: 350 clear KPI examples
The SMART KPI Toolkit 2023 is based on a practice-proven theoretical model (now used worldwide) and is also a very practical manual with more than 350 examples from 22 sectors that you can get to work with immediately. Based on 6 logical steps you will work towards a logical, integral and user-friendly dashboard and control model for your organization. Thanks to the many tips and exercises, every reader of this practical guide is optimally supported. Not only in identifying and defining KPIs, but also in visualizing, standardizing and operationalizing your key performance indicators.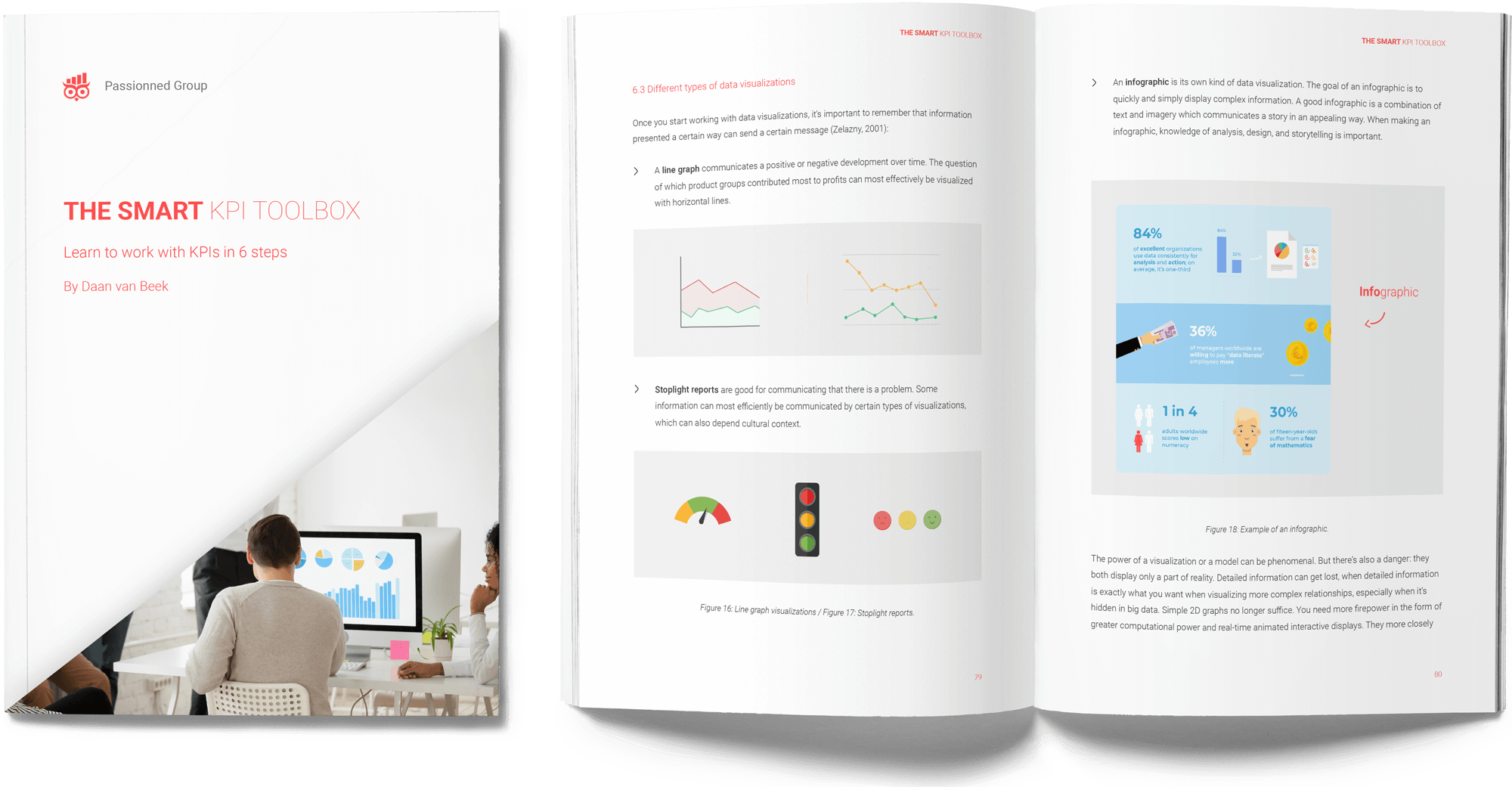 Do you also want a new, much more effective way of implementing KPIs, SMART goals and better financial results? Then download here the extended edition of the 'SMART KPI Toolkit 2023: the manual for performance management' for only 475 euro / approximately 525 USD.
In 6 logical steps you start working with KPIs
Using the SMART KPI Toolkit (PDF), you're not only going to see how to avoid the most important KPI blunders. You will especially understand the steps you need to take for KPIs and dashboards that really work. And most importantly, you'll learn how to start setting up a KPI tree in your organization. These 6 steps will be covered:
Identify: where and how do you find the unadulterated KPIs in your organization?
Define: how do you define indicators into one version of the truth?
Load: how do you ensure that you can load your KPIs with the right, qualitative data?
Visualize: what is the most effective way to visualize your KPIs?
Standardization: which methods do you use to standardize indicators?
Operationalize: how will you let teams steer and continuously improve with KPI's?
Based on these 6 logical steps you will not only bring the story behind the figures of your organization to life. You will also take steps to improve your data quality, you will bring focus to your control (less distractions) and you will also achieve daily continuous improvement with unadulterated KPIs.
The practical source for KPI management with 350 examples
The SMART KPI Toolkit is a complete and practical resource for KPI management and getting your goals straight. More than 350 examples from no less than 22 industries illustrate the relevance and necessity of unadulterated KPIs in practice. Turn on the turbo and take the shortest and fastest route to performance management that does work: download the guide here. Save valuable time and gain direct insight into the potential for improvement in your organization.
The tool for insights that really matter
The SMART KPI Toolkit is the tool to find KPIs, performance indicators (PIs) and insights that really matter. Successfully following the 6 steps in the SMART KPI Toolkit leads to:
SMART: truly unadulterated KPIs, 1 million insights and good standards
STRUCTURE: a clear, interactive management dashboard
STEADABLE: more grip and better steering through performance improvement
SMILE: a more efficient organization and more satisfied employees and customers
SIMPLE: fewer data records and no more administrative hassle
Does a coach draft 11 strikers?
Does a coach draft 11 strikers? A good coach will not consider drafting 11 players in the striker's box. He doesn't because he only needs one really good striker. If there are too many strikers, the efficiency goes down: they get in each other's way. Furthermore, other essential players, such as the necessary midfielders and defenders, would be lacking, which would stop the supply to the striker. Multiple real strikers are also unaffordable. Moreover, the chances of successful cooperation are extremely low.
If you translate this into the KPI problem, what is the result? If you work with too many KPIs, you will be stuck with an overloaded dashboard. You will lose the overview, just like in the clod soccer of the youngest pupils. You will never win. In addition to pure KPIs, you also need "regular" performance indicators and indicators. And collectively, just like in soccer, these ensure a balanced team. In short: if you don't take this into account, then your team will constantly be offside and you will be running behind the facts.
Do you want to quickly determine the real KPIs for your company?
Do you also want to work with SMART goals and pure KPIs within your organization? Then contact us for more information or request a quote without obligation. Our experienced KPI specialists will gladly assist you.
Reviews about The SMART KPI Toolkit 2023
I think your e-book is terribly good. It should be required reading for every dga/ceo. We have all our clients create a KPI dashboard (process indicators) and scoreboard (results and performance indicators).

Entrepreneurs have an awful lot of trouble keeping focus in that endless stream of to-do's. Concrete and well-chosen KPIs help tremendously in keeping on track. While I think the depth you offer in the e-book goes beyond what the average dga needs to know, that depth of knowledge is hugely valuable to us as mentors to those dga's.
order now
With the SMART KPI Toolkit, we have greatly reduced the number of KPIs and goals within our organization from 80 to about 15, giving us much more control over those factors that really matter (measured in business results). Passionned Group then provided us with excellent guidance in setting up and implementing a KPI system/dashboard.
order now
Very valuable, thanks for that. Strategy map is very useful and some new insights here and there for KPIs.
order now