Improve your organization with KPIs and performance management
The SMART KPI Toolbox is an essential handbook that will teach you how to effectively and efficiently work with KPIs in 6 steps. This is an essential "bible" for every controller, manager, and KPI advisor. It will help you define crucial management information for your organization. Define your KPIs with great clarity and work towards achieving your strategic, tactical, and operational goals. The SMART KPI Toolbox will answer questions like the following:
How and where can I quickly find the most essential KPIs for my organization?
Which KPIs are specific to my business? How do they relate to my business model?
How do I determine the key success factors driving the KPIs?
Which practical methods can I use to define performance indicators (SMART)?
How can I identify and visualize high-impact insights and predictive KPIs?
What else do I need to use genuine KPIs to improve my processes?
Theoretical model combined with practice: 350 KPI examples
The SMART KPI Toolbox builds upon a proven a theoretical model and offers you a practical handbook with over 350 KPI examples which you can start using immediately. Based on 6 logical steps, you can work towards a logical, comprehensive, and user-friendly dashboard and management model for your organization. The many tips and exercises in this KPI handbook give every reader the foundation they need to implement KPIs in their organization. Not just for identifying, defining, and loading KPIs (with data), but also visualizing, benchmarking, and operationalizing key performance indicators.
Do you want a new, more effective way of implementing KPIs and SMART goals and achieve better financial results? Order the complete edition of the SMART KPI Toolbox: the ultimate performance management handbook for only 199 euros.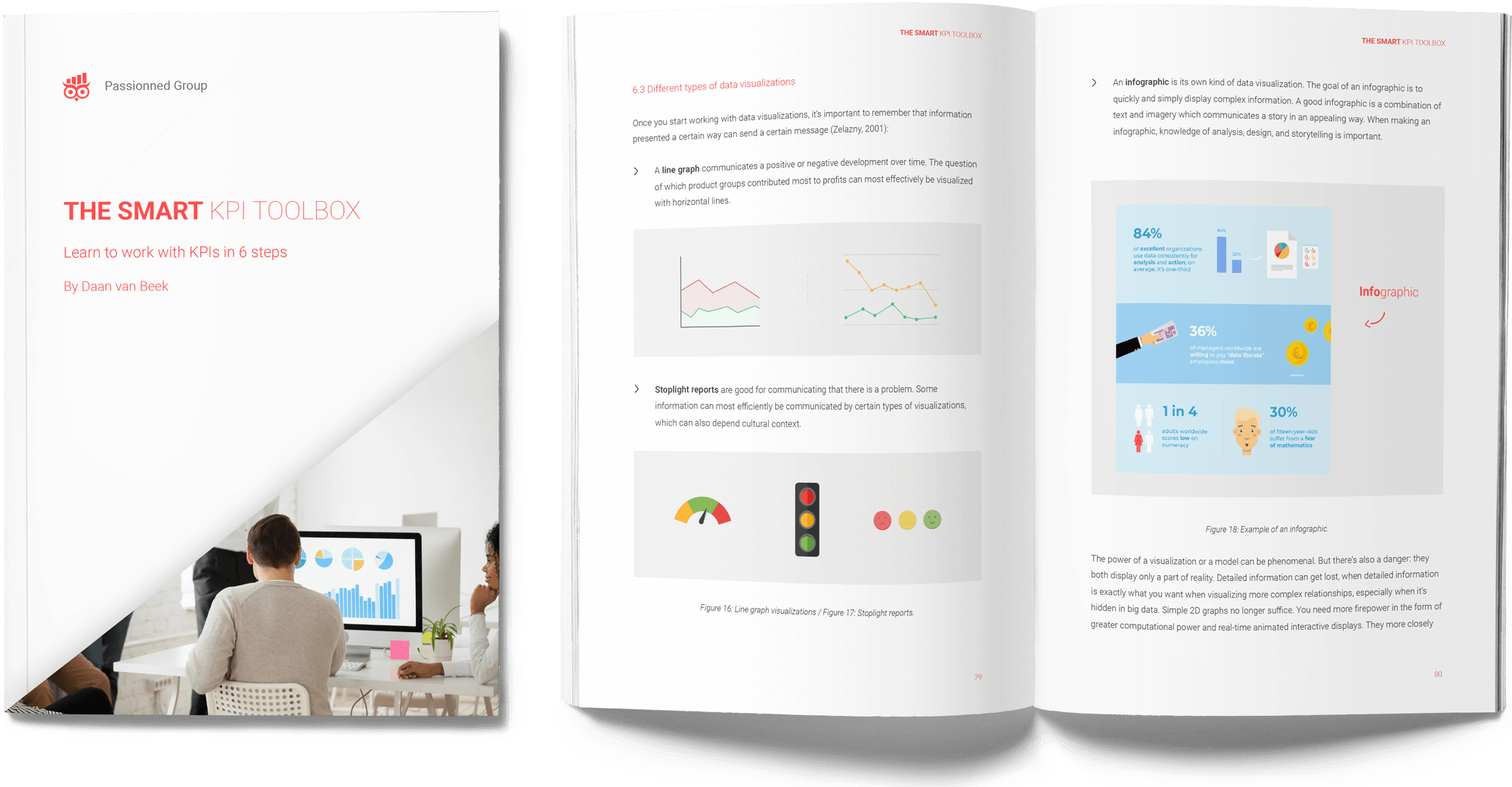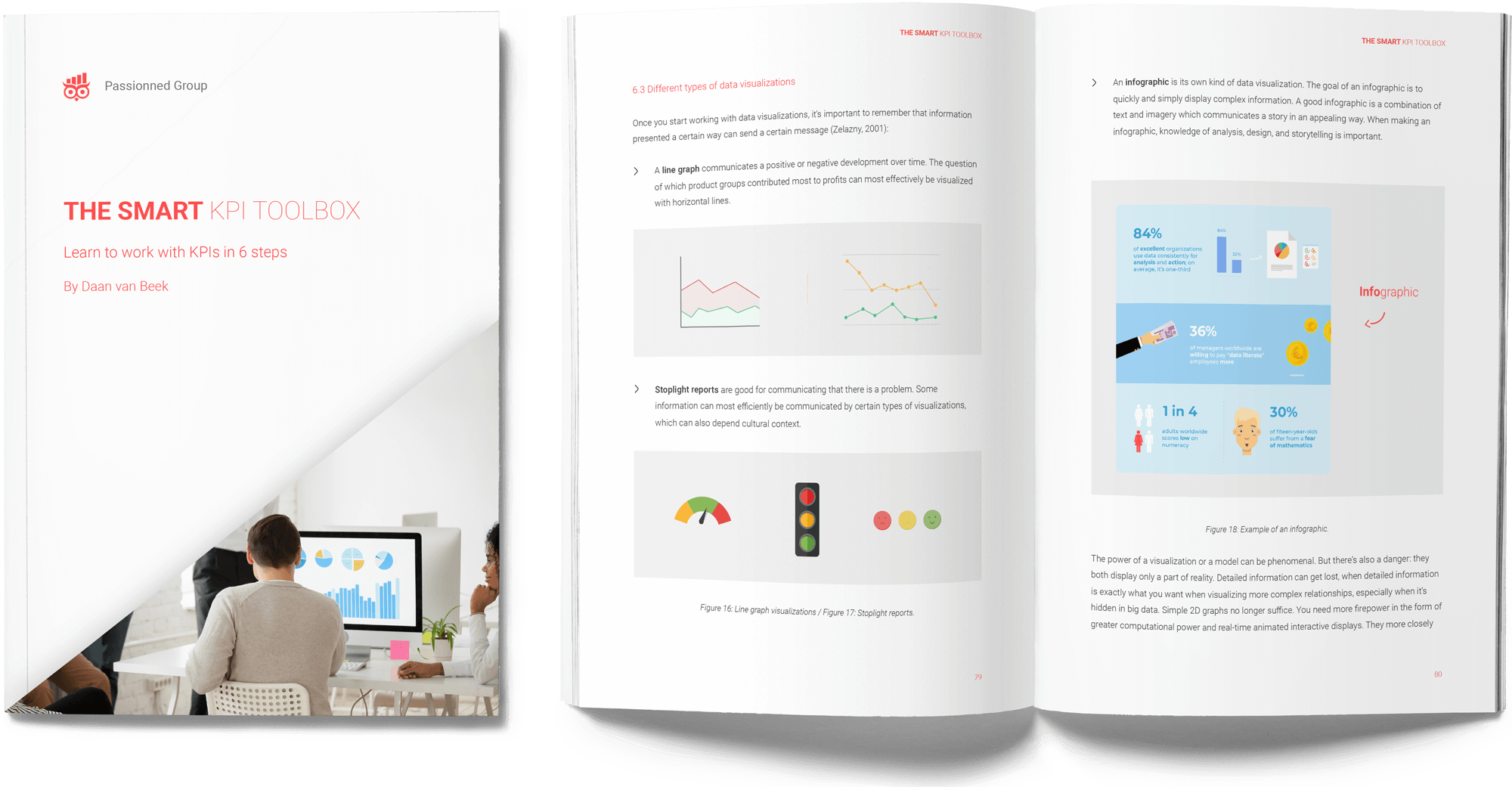 Work with KPIs in 6 logical steps
The SMART KPI Toolbox will not only tell you how to avoid the biggest KPI pitfalls, but it will also teach you which steps to take to get KPIs that really work. More importantly, it will teach you how you can implement them in your organization. The following 6 steps will be covered:
Identifying: where and how can you find the genuine KPIs in your organization?
Defining: how do you define the indicators to have one version of the truth?
Loading: how do you ensure that your KPIs are loaded with the right qualitative data?
Visualizing: what's the most effective method of visualizing KPIs?
Benchmarking: which methods can you apply when benchmarking indicators?
Operationalizing: how can your teams become more autonomous and start continuously improving using KPIs?
These 6 steps will bring the story behind your organization's numbers to life and help you take steps towards improving your data quality. Help management and leadership focus (fewer distractions), and start the process of daily continuous improvement using KPIs.
Practical source for KPI management: 350 examples
The SMART KPI Toolbox is a complete and practical source for KPI management and clarifying your goals. More than 350 examples from 19 industries illustrate the relevance and necessity of genuine KPIs in practice. Put the pedal to the metal and take the shortest and quickest route to performance management that works. Save valuable time and gain immediate insight into the improvement potential hidden in your organization.
Order the KPI Toolbox that's right for you
The table below will show you three different editions of the SMART KPI Toolbox. Choose whichever one suits your needs – the compact, basic, or complete edition. Click the Order button, fill in your information, and get started right away.
Extensive explanations & definitions
Immediately applicable decision tree + exercises
KPIs and the intelligent organization
The 7 most important hallmarks of KPIs
Best practice: high-impact insights
Analytical models & predictive KPIs
The 4 KPI analysis methods
Loading KPIs & data quality
Data visualization & infographics
Methods of benchmarking indicators
350+ example KPIs per function area
The most important KPIs per industry (19)
NEW: KPIs based on big data
Total number of pages
Price in dollars
Compact Edition
Yes
Yes
Yes
Yes
Yes
Yes
No
No
No
No
No
No
No
45
USD 95
79 EUR

Basic Edition
Yes
Yes
Yes
Yes
Yes
Yes
Yes
Yes
Yes
Yes
No
No
No
102
USD 180
149 EUR

Complete Edition
Yes
Yes
Yes
Yes
Yes
Yes
Yes
Yes
Yes
Yes
Yes
Yes
Yes
140
USD 240
199 EUR

Insights that really matter
The SMART KPI Toolbox is the ideal tool for helping you determine the KPIs, performance indicators (PIs), and insights that really matter. Successfully following the 6 steps will lead to:
✔ SMART: genuine KPIs, million-dollar insights, and high standards.
✔ STRUCTURE: a clear, interactive management dashboard.
✔ STEERABLE: more grip and better steering thanks to performance improvement.
✔ SMILE: a more efficient organization and more satisfied employees and customers.
✔ SIMPLE: less information registration and no more administrative hassle.
Completely tailored to your industry
The SMART KPI Toolbox contains an extensive overview of genuine, clear KPIs and performance indicators (PIs) applicable in many industries. The handbook contains a list of 350 (performance) indicators and KPIs per function type, as well as industry-specific KPIs. The various KPIs also indicate which big data sources you could use. The SMART KPI Toolbox covers at least the following industries:
✪
Banks
✪
Retail
✪
Telecom
✪
Healthcare (hospital)
✪
Mental health care
✪
 Cargo and logistics
✪
Industrial/engineering projects
✪
Food service / hotels
✪
Education
✪
Projects, consultancy & engineering agencies
✪
Industry
✪
Leasing
✪
IT consultancy & managed services
✪
Insurance
✪
Power companies
✪
Temp agencies
✪
Cleaning companies
✪
Local government and municipalities
✪
 Housing corporations & real estate companies
The current version (14.2) was completely revised and updated. The handbook has been enhanced with several new industries and three brand-new chapters covering KPI definitions, loading KPIs, and data visualization (including dashboards).
Over 20 years of combined management experience
The SMART KPI Toolbox was developed by Daan van Beek, managing director of Passionned Group and author of the book Data Science for Decision-Makers & Data Professionals. He developed this handbook based on his over 20 years of management experience and countless advisory roles. The Toolbox draws on all of his experience and expertise and makes it available to anyone who wants to start taking KPIs and performance management seriously. The handbook remains an ongoing project, improving with every iteration.
Customer testimonal
"The SMART KPI Toolbox allowed us to drastically reduce the number of KPIs and goals in our organization, from 80 down to around 16. This allows us to maintain much greater control over the factors that really matter to our results. Passionned Group also did an excellent job in helping us implement a KPI system/dashboard."
Vera Jonker
Parsons Brinckerhoff
Do you want to quickly determine the genuine KPIs for your company?
Contact us for more information or a quotation, no strings attached. Our KPI specialists are eager to help you.