ETL tool ranking
Click on the links below to see what graphs and scores are available in the ETL Tools & Data Integration Survey 2018.

ETL Functionality
In the graph below, the ETL tools are ranked by completeness. Their position has been calculated by awarding one point for each criterion for which a positive answer ('Yes') was received and adding up the points. The only exception is the 'slowly changing dimensions' criterion; if an ETL tool provided only manual support for this, zero points were awarded. If the tool provided support in the form of a wizard, one point was awarded. If out-of-the-box functionality was provided, two points were awarded.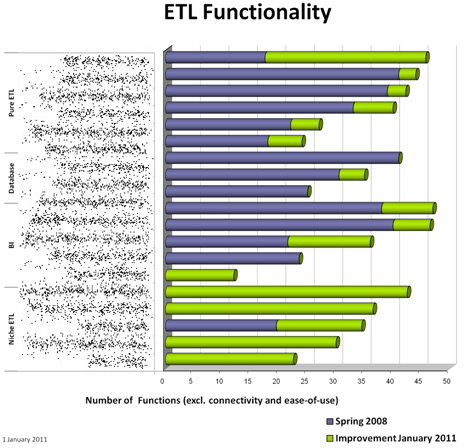 In some cases, half points were awarded when the required functionality was only partly available. If the answer was 'Yes, db', then this concerns functionality that is only available in combination with the database, as is the case with Oracle Warehouse Builder (OWB), SQL Server Integration Services and IBM DB2 Warehouse Edition.
The maximum number of points was 51.
Ease-of-Use
A maximum of eight points awarded to the ETL tool for its ease-of-use. A maximum of two points was awarded for each of four attributes, and points were allocated depending on the number of days of training suggested by the vendors (less training required – more points for Ease of Use). If the verdict was negative, then points were deducted. If for example, ease of use, WYSIWYG and task compatibility ETL/EAI earned a plus sign and screen design a minus sign, the tool was awarded two points (one points for each plus sign, minus one point for the minus sign).
The maximum number of points was 11.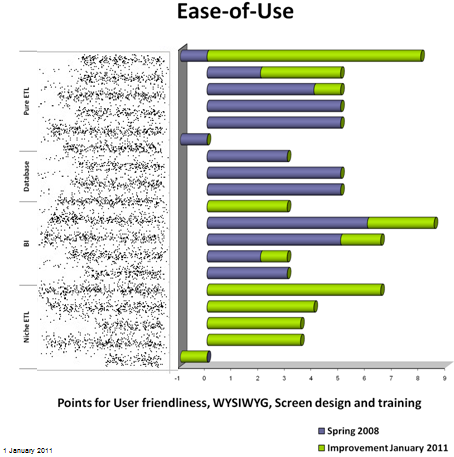 There is a big difference between an ETL tool offering various options and features, and making them easy enough for everyone to use. A number of ETL tools offer certain features that can only be implemented by programming, either from inside or outside the tool. In these cases it was decided not to include this functionality in the final score, because the advantage compared with 'normal programming' was too small. We assumed that for a feature to work efficiently, it had, to some extent, to be implemented in an easy-to-use graphical interface. If you only intend your ETL tool to be used by highly trained IT professionals this may be less relevant.
Connectivity
The connectivity score was calculated by allocating points for the number of platforms that a product runs on natively, the number of sources that can be read natively, the number of enterprise applications which can be read directly and the support for reading messages from queues. The maximum number of points was 8.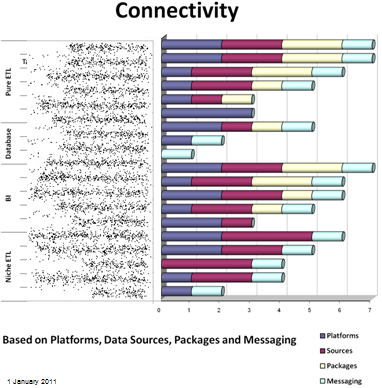 Platforms
Categorization by number of supported platforms is shown in the graph below. All the various Windows versions have been added together and counted as one platform. The major three flavors of Unix have been counted separately. Linux has been counted as one platform. Finally since there are still some installations we looked at the Digital (now from HP) machines' running OpenVMS and Tru64, the number of installations and the support for these platforms is decreasing.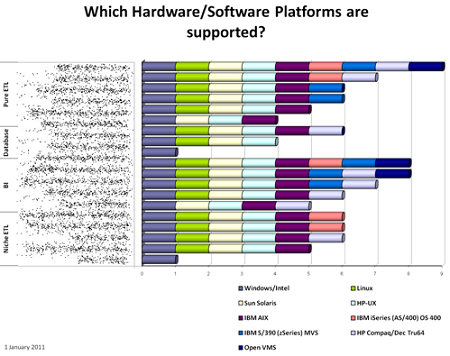 Future Prospects
Contrary to many studies that evaluate tools based only on their current market share, this study also attempts to evaluate ETL tools in terms of their future prospects. Market share is concerned with the past; it says nothing about the future. WordPerfect once had a huge market share but proved to have very little future potential.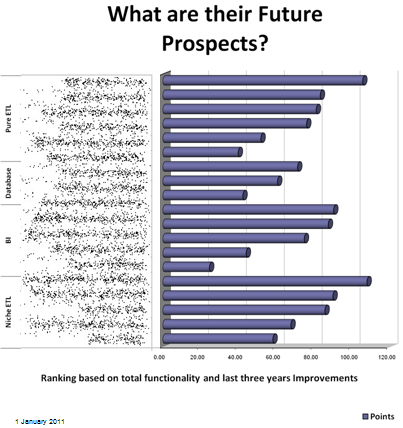 The growth potential looks at a combination of how complete a product is i.e. the total number of features (including ease-of-use, connectivity and platform support) and how much functionality has been added in the last three years. This gives some indication of the investment that can be expected in the product and is an important issue when choosing a product, it is best to avoid products that are still existing on past glories and not investing in the future. Which ETL tools will dominate the market in the coming years?
Product Ranking based on ALL categories
There have been many requests for us to provide one total graph with the scores of all the products on all categories. Internally we had many discussions about how useful these scores are since we are comparing products which are intended for different customer situations, but by popular demand here is the "Total" view.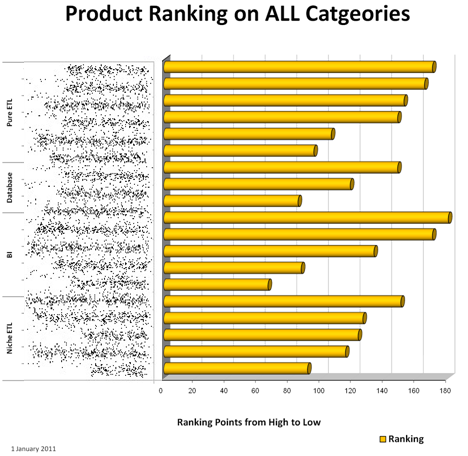 Price versus performance
In past versions of this report we attempted to look at price versus performance. Product pricing has become so complex that we can no longer do this with any degree of accuracy. We no longer publish prices in the report
Vendors were requested to provide Passionned with a price quotation for the following two configurations:
Configuration 1
Operating system: Windows 2003 Server * Hardware: Intel / 2 processors * Connections: Oracle, SQL Server (including flat files and ODBC/OLE DB) * Developers: 2 * Servers: Development and test (1 processor), production (2 processors)
Configuration 2
Operating system: Unix IBM AIX or HP UX or Sun Solaris * Hardware: 4 processors * Connections: Oracle, DB/400, SAP (including flat files) * Developers: 3 * Servers: Development and test (2 processors), production (4 processors)