Artificial Intelligence and electric engineering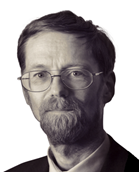 Tom Langerak has a background as an electrical engineer and has studied artificial intelligence. This broad perspective has helped Tom bring a diverse array of projects to a successful conclusion. On top of that, his knowledge of modern hardware, AI, and BI has proven to be an interesting combination, given the rise of the Internet of Things.
The common thread
The common thread in Tom's career is a strong drive to simplify complex problems. He abides by the principle "make everything as simple as possible, but not simpler." This approach regularly leads to unorthodox solutions, and especially to satisfied clients. That fits well with another one of his mottoes, "always give your customers more than they expect," which he learned from a previous employer.
Tom's specializations
Tom doesn't have a strong preference for a certain kind of project, as long as there's a difficult problem to solve. His focus is on one or more of the following activities / roles:
✓ Hardware design (
sensors & IoT
)
✓ Software development
✓ Industrial data analysis
✓ Research & development
✓ Architecture review
Data analysis on an oil tanker
Tom has interesting stories to tell about just about any of his projects. How often does a data analyst get to work on an oil tanker for three weeks, for example? Or what about the complete organizational and technical transition of the former border currency exchange offices, with the introduction of the Euro as the hard deadline?
Tom has been employed by Apple and helped with the development of a logistical system for service parts (with embedded BI) and the software development for the semi-automatic distribution center. Tom also developed a knowledge system for this distribution center, which greatly improved the lead time of configuration processes.
Knowledge should be shared
Despite Tom's extensive technical know-how, the human aspects and knowledge sharing play a crucial role. Knowledge is meant to be shared, in Tom's view, and for that reason, he started teaching training courses in Europe and the Middle East back in the 1980s.
These days, Tom stays a bit closer to home. For over 10 years, Tom has been teaching Data Warehouse and Business Intelligence & Analytics training, predominantly for TDWI's CBIP certification track. During these training courses, he also tries to shine a spotlight on lesser-known subjects like data virtualization and data warehouse automation.
Explaining the most difficult problems
"Tom is an excellent trainer for data warehouse users. Drawing on his expert knowledge and experience, he uses the best examples to explain the most difficult problems. He's very reliable and professional in his lesson planning. And last but not least, he's a very interesting man to work with."
Lennaert Wong
CBS
Objective advice from Tom Langerak?
Do you want objective advice about your BI, or do you have questions about how and where to start with BI? Contact Tom freely to discuss how to find the most pragmatic answers to your problems.