Data visualization & Tableau specialist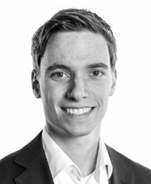 After getting his degree in mathematics, Koen van Boxtel started his career as an information analyst in the insurance business. After over four years in the insurance world he chose to become a freelance Data Analyst, specializing in data visualization using Tableau. He accrued more experience by working for companies in various industries, including retail, hospitality, engineering, and education and training. At Passionned Group, Koen is known as a data visualization and Tableau Specialist.
Personal goal
Koen's ambition is ensuring that data visualization quality takes off, all over the world. He wants to achieve this by supporting the development and implementation of Business Intelligence strategies and by offering training focused on data visualization and Tableau.
Problem-solving thinker
Koen's background in math makes him a real problem-solver. With his capacity for analytical and conceptual thinking, he can quickly drill down to the root of a given problem and come up with a fitting solution. He has experience using several CRM systems, such as SalesForce, Microsoft Dynamics, and Hubspot. This allows him to immediately be an asset to any sales-oriented environment. Koen has experience with email marketing, call centers, process automation, account management, reporting, and management dashboards.
Tableau
During his studies, Koen accrued a lot of experience using Excel and VBA. These tools aren't optimal for data visualization, however, so he went in search of data visualization tools. One of these tools was Tableau. He's been using this tool for over three years now, and he's an experienced Tableau Specialist. Koen is an officially certified Desktop Qualified Associate and Desktop Specialist. The combination of his mathematical background, experience as a teacher, and experience with Tableau make him an excellent mentor or trainer when it comes to data visualization tools. He can also assist organizations in implementing Tableau as a BI project manager or Tableau Specialist.
Workshops and training
During his studies, Koen also took a course to learn how to be a math teacher. This is where he got his first steps in the teaching world. He applied this knowledge in various assignments. He's taught training in process management, CRM user and admin, data visualization, and Tableau. The foundation of his training is based on a social setting or the classroom, combined with practical assignments.
Data-driven working
Koen is convinced that a business' continuity depends on their perspective on data and data-driven working. He believes that businesses that use data are in a better position to react to and predict the market by being more agile and flexible. In the long term, this means that you can stay ahead of companies that are less flexible and those that make decisions based on gut feelings instead of data.
Meet Koen
Do you want to find out what effective data visualization can mean for your company? Do you need a Tableau expert to help you implement the tool? Do you want to work data-driven? Feel free to contact Koen to discuss the possibilities.