An eye for quality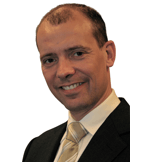 Hans Blom is an experienced business consultant and project manager with a keen eye for quality. He has over 25 years of experience in the ICT sector when it comes to coaching, project management, and being a team leader. Hans' strength is his ability to stay on top of complex processes. His experiences with various organizations, his analytical capabilities, and down-to-earth perspective enable him to quickly and effectively assess the needs of the organization.
Involved and enthusiastic
Hans' methods are distinguished by his high degree of involvement and enthusiasm in any task. He has high standards for any assignment, strong communicative skills, and is results-oriented.
The intersection of ICT and business: working in two worlds
Many problems can be traced back to miscommunication and language barriers, both at work and in the world at large. ICT and business are often two separate worlds speaking separate languages, with different perspectives on problems. Hans' ICT expertise and his experience as a business consultant enable him to bridge the gap between these two worlds.
Definition of TEAM
When it comes to working in a team, the degree of #TEAM matters a lot. This, of course, stands for the famous "Together Everyone Achieves More". While it may be a bit of a truism, it's not entirely without merit. Hans' personal experience managing a women's cycling team has taught him how important it is to work as a unit. He also learned how important it is to create a unit in a sport where individualism usually takes precedence.
Thinking in solutions while maintaining quality
Problems exist to be solved, however, the quick solutions of today could be the problems of tomorrow. Using clear business analysis, Hans can apply his structured methods to create long-term solutions. But he also knows how to intervene timely and create the right meters and create a workable solution for the business when necessary.
You don't need to have big data for BI
The assumption is often that lots of data means lots of information, but if you don't know how to swim, you can drown in a data lake. The trick is to ask the right information questions from the business side in order to optimize processes. Hans enjoys bringing both sides together. That creates the required synergy to reach the desired goal.
Listen and learn
Like Stephen Covey once said: "Listen with the intent to understand, not the intent to reply." Understanding what to focus on is key to achieving structural solutions. You can only reach this point by listening to what people want, and sometimes to intuit the things they don't know they want. This doesn't just go for the customers, but also for the supporting side, such as ICT.
The key to connect different parties
The times when ICT (managers) determined what's good for the organization is far behind us. Yet, ICT can create important frameworks for, for example, performance or pressure on the organizational department. His experience as a business consultant with extensive ICT expertise allows Hans to intuit what people want. He can bridge the gap between various departments.
Do you want to meet Hans Blom?
If you want to chat about your ICT challenges, interim (team) management, or the possibilities offered by Business Intelligence for your company, contact Hans Blom now.