Senior consultant Data Science, trainer, and coach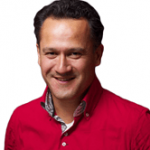 Gustaaf Vocking is a data scientist and sought-after international trainer, consultant, and coach. He's results-oriented, data-driven, and experienced in developing people and organizations. Gustaaf completed no fewer than four relevant studies, and he regularly teaches at various colleges.
Results-oriented data-driven developer
At the early age of 15, Gustaaf started his career as a database programmer and internet work specialist. Since then, he's helped international financial service providers, large (semi) government organizations, and the education sector in their striving for better performance. In order to do this he combines the latest methods and techniques in data, ICT, and statistics, using the most modern insights and management. His entrepreneurial spirit, enthusiasm, and driven nature resulted in, among other things, four successful startups, the implementation of dozens of organizational changes, and the development and implementation of eight new international Bachelor and Master's courses. Gustaaf's boundless energy, curiosity, and drive for personal development show themselves in the fact that he completed four studies next to his work as an expert, consultant, and interim manager: Econometrics, Administrative Computer Science, Psychology, and Business Administration.
Take advantage of his cutting-edge analysis
Gustaaf is always focused on letting you and your organization discover how to perform better, using the right tools and under the right conditions. By combining cutting-edge and correct analyses and unlocking the right, relevant data, Gustaaf can help you make relevant discoveries and predictions that can really help your company. From his perspective, every Big Data analysis is a journey of discovery that can give you and your company new insights and possibilities, leading to new opportunities.
Result and team builder with proven methods
Gustaaf will help you determine the right goals for your situation. He'd love to take you on a journey of discovery in a data science training course or in an advisory role. When necessary he works independently, whenever possible in a team, but always in close co-operation with the most important stakeholders. In his philosophy, the most important ingredients for success are responsibility, trust, and open communication. With his insight into business, Big Data, and processes, Gustaaf can ensure the best results in improvement and change projects. His approach has already proven its worth many times over in practice, from determining a strategy and Big Data analytics to change management.
Speaking the language of the business and the IT experts
Whether it's about strategy development, process optimization, or IT development, Gustaaf speaks the language of both the business and the material experts. In his advice, training, or interim expertise, you'll benefit from his renaissance man-approach, experience, and material knowledge of data, mathematics, and technology.
Successful improvement using Big Data
Gustaaf regularly trains and advises about IT developments in the field of Agile, Scrum, Big Data, change management, processes, and innovation methodology. In his interim roles, he's often active as a front man during innovation, improvement, and change tracks that require Big Data insights, modern solutions, and good guidance.
Driven teacher of Big Data training
Gustaaf Vocking regularly teaches at the Passionned Academy. He also regularly teaches at various colleges. As a teacher at, for example, Hogeschool InHolland, Gustaaf teaches up-and-coming Business Innovators what makes projects genuinely successful. For the TIAS and Haagse Hogeschool, he taught Strategy, Innovation, and Entrepreneurship.
Do you want to spar with Gustaaf?
Do you also want an intelligent organization and Data Science that works for your organization? Contact Gustaaf Vocking for a conversation about Big Data Science applications & change management.