A valuable experience: TU Delft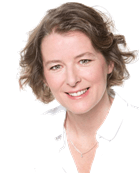 Ericka Petrignani (1973) has a technical background. After being denied access to training to become an air force helicopter pilot due to her age at 16, she chose to study Air and Space-flight Technology at the Technical University Delft. As one of the few women at the TU, she had to learn how to stand her ground early on. A valuable experience that she carries with her to this day.
Building bridges and connecting departments
In 2007, Ericka became a Functional Manager in IT. In this function, she worked on the intersection of Business & ICT and of Strategy & ICT. She quickly demonstrated her added value in this role. She built bridges and connected departments, learning to understand other people's worlds and how to work more efficiently and effectively.
Ericka demonstrated her capabilities by successfully completing implementations in her role as an implementation and change manager. Clients have rated her approach highly and Ericka always involves them in the change process.
Independent entrepreneur
In 2011, Ericka decided to work independently. She started out with a daycare, only to dive back into the corporate world in 2013. That side venture was a deliberate choice for her to learn to live and act from the heart. This is a philosophy that she's always carried forward in life.
The soft side is especially important
In all of Ericka's roles during her assignments as an independent contractor, she was most in her element when it came to implementation and change, because the soft side is especially important when it comes to change management. As a team manager, coach, change manager, and implementation manager, she knows how to empower people like no other. To involve employees in the change process, and lift the team and the organization to a higher level: that's Ericka's passion.
Agile working
Ericka is agile by nature. As a human being she can't stand monotony, and as an entrepreneur, being agile is in her blood. She has the drive to continuously improve herself and organizations, and has an infectious drive and approach, a valuable characteristic that she applies in her assignments. Implementing Agile Scrum, Kanban, SAFe, information-driven working, but also guiding LeSS and Lean transitions is second nature to Ericka.
Teaching workshops and training courses
As an implementation manager, Ericka hasn't just given presentations to MT, directors, and decision-makers, she's also taught training courses and workshops. Ericka can communicate on every level, from the internal organization (help desk, management, execution) and the external organization (regional offices, customer contact, etc.). From simple terms to complex discourse surrounding politically sensitive subjects.
Extracurricular activities
Aside from her contracting activities in IT, Management & Consultancy, Ericka is also active as a member of the board at VvE, and she's working on starting up a biological smoothie store with her daughter (1997). Her creative side manifests in painting and writing, which she does regularly to wind down. She also acts and performs as an extra in shows and movies every now and then, and in the past she's taught tennis lessons.
Contact me
Contact Ericka freely to discuss what she can mean for your organization.