25 years of experience as a consultant and change manager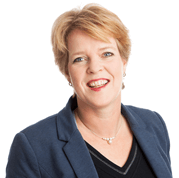 After successfully completing her studies in business economics, Annemieke got started working as an independent contractor specialized in change processes. Because she wanted to analyze organizations from a holistic, comprehensive perspective, she obtained a post-graduate Business Process Management degree. To gain insight into how to approach the human aspect of change, she then completed a post-graduate Coaching training. From this solid foundation she helps organizations bridge the gap between the organizational strategy and the workplace. With her passionate approach, she brings out the best in people and organizations.
Working on an energetic organization
Annemieke worked in the for-profit sector for many years, and has completed multiple projects in various roles, in a variety of organizations. The common thread in these projects is the connection between the organization's strategy, desired goals, and execution. Annemieke's motto is: "if you make a collective commitment, you have to go for it wholeheartedly and overcome the obstacles together." Annemieke mobilizes all levels of the organization to roll up their sleeves. Clients describe her as having an energetic personality, a person who easily makes connections and works in a result-oriented way. She knows how to convince those around her, which makes them more willing to develop. A shared focus of the goals within the organization creates new energy for continuous improvement.
A safe environment stimulates a learning organization
Annemieke helps organizations to solidify what the strategy means for the competencies of its employees. She helps organizations create a safe learning environment, where people are free to learn, experiment, and give constructive feedback. She teaches organizations how continuously taking measurements can help determine whether or not the organization is moving towards the desired results. That's how she creates a foundation for an analytical company culture. Annemieke challenges people to take more control. She believes that people are responsible for their actions. That's why she challenges people to be proactive in contributing to the company strategy. Providing employees with the right information and giving them the right guidance creates a flywheel effect: employees continuously contribute more to building an intelligent organization. They'll be inspired by the process of continuous improvement.
Connector pur sang
When she's on assignment, Annemieke likes to spend time with direction and management (MT), but she just as easily blends into the workplace. She uses her knowledge of processes to look at what employees are doing and creates a link to organizational goals, processes, and the desired strategy. Thanks to her experience and approach of connecting people, she knows how to take resistance to change and turn it into determination to strive for shared goals.
Extracurricular activities
During her free time, Annemieke is active on multiple fronts. She promotes co-operation between local trade associations and the municipality. She also supports a local platform of six trade associations created by the businesses and the municipality, with a focus on the socioeconomic perspective. She also supports a group of 20 local HR managers in setting up a coalition aimed at stimulating the local job market and the reintegration process.
Do you want to meet Annemieke Post?
Feel free to contact her for a conversation about continuous improvement in your organization and creating an analytical company culture.