Quality manager: from quality to total certainty
The role of the quality manager has undergone a lot of changes in recent years. In the past, the emphasis was primarily on improving the quality of internal processes or products. Nowadays there's a greater emphasis on process optimization and cost reduction, partly due to external pressure. The quality manager also has to prevent the organization from repeating past mistakes.
In recent years, especially after the (credit) crisis, the role of the quality manager has gained importance. The government, supervisors, customers, and the public all demand transparency in order to prevent such crises in the future.
Consequences of strong growth
The answer was clear: more rules, more supervisors and oversight bodies, and expansion of departments involving quality and risk management. The result was more predictable processes, less chance of misuse, and more transparency.
But there was a downside to this. The increase in regulation and the growing amount of quality systems made it more difficult to execute primary processes and be agile. The question is: have we gone too far? Can a quality manager 100% guarantee quality and totally prevent all risk? Obviously, the answer to that is "no."
Related roles
The trends facing quality managers
The quality management field is developing quickly, especially in recent years. These changes can't be ignored anymore. The most important trends are:
Increase in oversight and regulations: Because of all the developments in recent years, the amount of quality systems and standardization in organizations has increased dramatically. The amount of supervisors has also increased, or oversight has become a lot more pro-active.
Transparency is the norm: organizations have to actively justify themselves to regulatory bodies and society more often.
Large increase in quality systems: there are more and more quality systems and the amount of regulations is increasing. The challenge is staying up-to-date and translating regulations into workable rules within the organization's primary process.
Quality-based thinking is essential: quality-based thinking and quality methods are becoming integral components of every process in the organization. Quality management sets organizations apart from the competition.
Outside-in thinking is becoming the norm: processes, quality systems, and improvement methods are considered from the customer's perspective. Processes should only be executed if they actually add value for customers. This approach is also called "Value Stream Thinking."
There are more relevant trends than these in the field of quality management, of course. Also important to consider: how can you make processes and quality truly measurable within an organization? And how does the quality manager add sufficient value from the sidelines, without stepping on the line manager's toes?
What to look out for in a quality manager
The most important points are:
What skills should you expect from a good quality manager?
Which tasks and responsibilities make up this profile?
How do you measure the success of quality management?
Why should you hire a quality manager through Passionned Group?
What steps can you take to find, or become, the right quality manager?
All these questions will be discussed below.
What practical skills should a quality manager possess?
The role of the quality manager is shifting. Previously, they were primarily focused on internal aspects, but supervisors and watchdogs are placing increasingly stringent demands on organizations. And with that, on the quality management process.
Quality management is changing increasingly from implementing the right quality systems and techniques in organizations, to getting the entire organization on board with quality and risk management. The most important skills for this are:
The ability to successfully implement quality systems and techniques in organizations.
Being able to implement quality management practically, without it being seen as dead weight.
Building good relationships with everyone in the organization.
Reporting risks and possible (future) quality problems in time.
Controlling processes in the right way without compromising your independent role.
Of course, knowledge of their industry and business is also important. The quality manager has to be familiar with, and be able to apply, all the quality systems and measuring instruments in organizations. But they also have to stay up-to-date on the latest developments concerning changing regulations.
How do you become a (better) quality manager?
The fields of quality management, lean, agile, and continuous improvement are developing at lightning speed. These fields are overlapping more and more. All of these approaches are focused on making organizations adaptable in the changing market. Quality managers who can successfully oversee this change are rare.
If you want to keep developing as a quality manager, then reading trade literature, for example from our knowledge base, is always a good first step. We've also written various books that can provide new insight into your field.
Take the next step with Passionned Academy
If you really want to take the next step and become proficient at implementing change through quality management, Passionned Academy has a wide range of training courses suited to your needs. From lean training to a masterclass in PDCA & Continuous Improvement. All of these training courses are also available as in-company training. Our experienced teachers will come to your company, assess your needs, and help you reach the next level. If you want to know more, feel free to contact us.
Do you want to hire a quality manager?
You could hire an interim quality manager at many organizations, but Passionned Group sets itself apart from the competition. Our interim quality managers distinguish themselves by not only being highly experienced, but also by focusing on implementing and improving quality systems in organizations, without blindly following the latest hype.
We have a clear and transparent approach. After placing a request with us, we'll typically contact you within one day (24 hours) to discuss your request in greater detail. Based on that conversation, we can form a detailed profile of your desired candidate, and we'll start looking for them in our extensive network.
Whenever possible, we introduce two candidates, to give you more choice. If you decide to accept one of our candidates, we can usually complete the process within 48 hours, and our interim manager can start working in your organization shortly.
What are the benefits of Passionned Group?
Naturally, our quality managers are highly experienced when it comes to quality management, but there's more. They're not only focused on the strategic and tactical vision of quality management, but especially on the implementation of tools within the primary processes of organizations.
They have a clear perspective on these changes: start implementing immediately and improve continuously. That doesn't only go for the processes they design quality management for (the primary processes), but also the quality management processes themselves.
Quality managers as teachers
Some of our quality managers also teach in the Passionned Academy. They embody a perfect mix of the theoretical and the practical. The quality manager has access to an extensive knowledge base and a toolkit that's also made available to employees in your organization. Use these helpful tools to make big leaps in quality management.
Quality management, now and in the future!
Quality management changed drastically after the (credit) crisis hit. Analyses after this crisis showed that many organizations were not transparent enough and misjudged the risks. That lead to companies needing to be saved. Supervisors, the government, customers, and the public all demanded greater transparency, so that something like this could never happen again.
Because of this, greater demands were placed on oversight, quality management, and risk management. Many new rules were put into place, and quality control became stricter. Many organizations had to comply with new regulations, leading to quality and risk management being put on the map. These departments were expanded and new control systems were introduced as a result.
Quality manager as an extension
Often, the argument for more quality management was "the government made us do it." Quality managers were seen as an extension of supervising bodies and were "a pain in the behind." But that isn't and shouldn't be the reason to implement risk and quality management. These days, it's an integral part of doing business, and it should be in the job description of every management team. Just like HRM is.
More external demands
We'll have to get used to more and more demands being put on organizations' quality systems, and having to report on them transparently. The quality manager's job is navigating this new environment, together with management. But quality management has to be more than just something demanded by the outside world. It has to become part of every organization's DNA. Successful companies like Apple have embedded quality management in the roots of their organization.
The new motto has to be: we don't work for the quality systems, but the quality system has to work for us. In other words: quality should make money instead of cost money.
Opening quality manager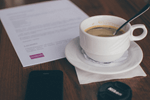 We're regularly looking for experienced quality managers to help our clients. If you see yourself in the role we've described here and you want to know more, contact us.
Are you interested?
Do you want to know more about our interim quality managers? Do you have any questions about a specific training course, or do you have any other questions? Don't hesitate to contact us. We're eager to help you.