In a recent poll among the visitors to this website, it has become clear that mobile Business Intelligence (BI) is no longer just a hype. More than 75% of those who voted, expressed that they believe that Business Intelligence will become completely mobile in the near future.
The business case for mobile BI is very strong
This is hardly a strange outcome since the business case for mobile Business Intelligence is very strong. In addition, managers love gadgets like smartphones and tablets. The future of Business Intelligence is mobile. We asked visitors: "Business intelligence will become completely mobile in the near future".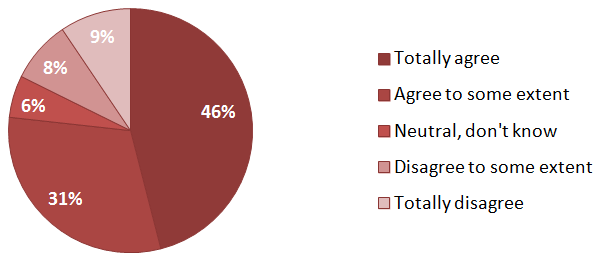 Possibly, they believe that mobile BI will become a commodity
A small number of voters (17%) did not (completely) agree with the statement in the poll. Possibly, they believe that mobile Business Intelligence will become a commodity, but that a small part of Business Intelligence will be consumed in traditional ways: viewing reports and dashboards on desktops and laptops. And I guess they are right, being able to do thorough analysis requires people to have devices like big screens, a mouse and the possibility to switch easily between windows.
Increase the usage of key information
Mobile Business Intelligence will clearly increase the usage of key information by managers and employees. With BI apps on smart phones and tablets, users of these devices are only limited by their internet connections. Figures can be viewed from everywhere in almost any situation. From a Business Intelligence study among 389 organizations, it became clear that one of the biggest success factors for Business Intelligence is the use of information for analysis, process improvement, innovation and action. When managers consistently do the above and mobile BI may well support this, it is hardly surprising that the performance of the company will increase. Assuming they take the right decisions and actions!