In a recent poll among the visitors to this website, it has become clear that mobile Business Intelligence (BI) is no longer just a hype. More than 75% of those who voted, expressed that they believe that Business Intelligence will become completely mobile in the near future.
The business case for mobile BI is very strong
This is hardly a strange outcome since the business case for mobile Business Intelligence is very strong. In addition, managers love gadgets like smartphones and tablets. The future of Business Intelligence is mobile. We asked visitors: "Business intelligence will become completely mobile in the near future".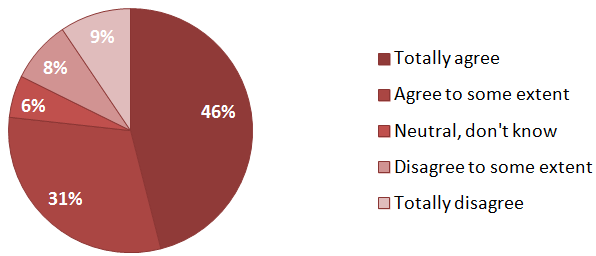 Possibly, they believe that mobile BI will become a commodity
A small number of voters (17%) did not (completely) agree with the statement in the poll. Possibly, they believe that mobile Business Intelligence will become a commodity, but that a small part of Business Intelligence will be consumed in traditional ways: viewing reports and dashboards on desktops and laptops. And I guess they are right, being able to do thorough analysis requires people to have devices like big screens, a mouse and the possibility to switch easily between windows.
Increase the usage of key information
Mobile Business Intelligence will clearly increase the usage of key information by managers and employees. With BI apps on smart phones and tablets, users of these devices are only limited by their internet connections. Figures can be viewed from everywhere in almost any situation. From a Business Intelligence study among 389 organizations, it became clear that one of the biggest success factors for Business Intelligence is the use of information for analysis, process improvement, innovation and action. When managers consistently do the above and mobile BI may well support this, it is hardly surprising that the performance of the company will increase. Assuming they take the right decisions and actions!
Do BI vendors support mobile BI?
The question is whether all Business Intelligence vendors are ready for mobile Business Intelligence. The answer is in our BI & Analytics Guide where we compared 20 tools for Business Intelligence on hundreds of selection criteria.
Users who are constantly on the move
These are the users who are constantly on the move, working in places where there is no computer access or those users who found it too much trouble to start Business Intelligence on the laptop or desktop. With Mobile Business Intelligence we can also reach this large group of users, provided that the mobile app is user friendly and can quickly conjure up the right insights that are needed at that moment.
Are we going to succeed with mobile BI?
You can probably recall that a dozen years or so ago Microsoft advertised with the slogan 'Information at your fingertips', now also abbreviated as IAYF. Do we now really have relevant and good management information to hand at the push of a button? Are we going to succeed in that with Mobile Business Intelligence?
Very positive effect: more potential BI users
Theoretically this can have a very positive effect when that big group of users that now makes no or indirect use of Business Intelligence, has direct access to good information and uses it for analysis, discussion, decision making, process improvement and action. The important thing is of course the first of these points, good information, and the last, applying it.
Users find it difficult to formulate what information they need
Good information is still quite scarce because we all know how difficult users sometimes find it to indicate what information they need and above all when and at what point in the process. That is what it is essential to find out. The business process can provide a useful steppingstone here. Finally, if the underlying data is not correct, mobile Business Intelligence is useless.
Still mobile BI projects fail
Conclusion: in theory mobile Business Intelligence can mean a lot because more users can gain access to good information. In practice, unfortunately, we still see that mobile Business Intelligence projects fail because these three important conditions have hardly been taken into account:
Provide good information and insights;
Base this information on correct and complete data;
Establish a good management process in which insights are used for analysis, discussion and action.
Satisfying these conditions, will not only reduce the probability of mobile Business Intelligence failing, but can also increase the chances of success for Business Intelligence in the wider sense.