A dashboard can visualize company, team and individual performance in a fashionable manner. It helps you to run your company better by using reliable and actionable information. Most dashboards contain simple indicators like revenue, margin and sickness rate, but there are much more complex key performance indicators (KPI's) that may be relevant to monitor helping you to achieve better results.
There are different kind of dashboards:
a financial dashboard
a supply chain dashboard
a marketing dashboard
a sales dashboard
a company dashboard
Complex dashboards
The most innovative dashboards contains indicators displaying results from different areas of your company like sales, marketing, distribution, supply chain, HR and finance. Why is such a dashboard complex? Because you need first to extract data from different systems. Data about your clients is stored often in multiple systems like the ERP system, the finance and the CRM system, not to mention the data in the outside world like Twitter, Linked-In and Facebook. In addition each department uses its own definitions of KPIs, which makes it difficult to create one version of the truth using a dashboard.
Example dashboard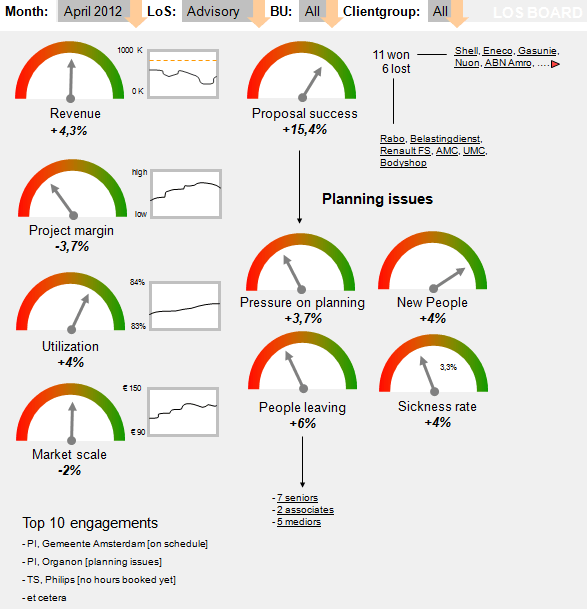 You need dashboard tools to be able to create dashboards. Most Business Intelligence tools can create a dashboard. But they can also create reports, support analysis and predictive analytics.
Managers tend to panic if the dashboard turns red
Managers and staff from bad performing organizations tend to panic if the results fall below the expectations. Suddenly the defined targets become open for discussion ("We shouldn't be adding this and that number into the total….") and everybody starts producing their own reports (Excel), where the numbers all show that the situation is actually much better. This in stark contrast to the "outstanding" organizations who immediately start analyzing the situation and taking action, which may be changing the norms and targets or just discussing what they should be. An analytical company culture, where information is used consistently both for analysis and action, and norms and targets are regularly evaluated and adjusted is not common, but very essential. Read more in our research paper.
Important features of dashboards
Dashboards (or cockpits) – if properly designed and maintained – allow us to quickly assess whether the organization is still on course and to tell at a glance whether problems exist in the business operations and if so, where.
Traffic lights, simple charts and notifications
We mostly use gauges or traffic lights with the colors green, yellow and red, for this purpose, but we may also use simple charts and visualizations (see figure). Another possibility is notification: part of the (dashboard) screen is reserved for listing unsolved problems, usually in text format with hyperlinks. This instrument also indicates whether it is a known issue and if so which manager should set out what actions in order to solve the issue.
Less capabilities for interactive analysis
A dashboard retrieve the required data from data marts or data cubes and have in general very less capabilities for interacting with the data. Usually, we can only jump from period to period or switch between business units, product groups or customer groups. Dashboards are thus primarily static, meaning that the user cannot analyze information extensively.
The target audience for dashboards are (senior) management
The main target group for this tool will be the (senior) managers of the organization. The dashboard should therefore be very easy to use and training time must be virtually nil. After all, managers have little time and a great need for an overall picture of the business. They require highly aggregated information without too many details and most importantly, they need to be able to rely on the dashboard, even when – or particularly when – they are not at the office – due to circumstances or a busy schedule.
The information must be unambiguous and highly reliable
The management information presented by the dashboard must thus both be unambiguous and highly reliable. Dashboards are also increasingly equipped to provide insight into the (causal) relationships within business operations. As a result of this organizations can gain general insight into the specific bottlenecks of the processes at management level: this type of dashboard visualizes all sorts of management models such as a Balance Scorecard – in which the causal relationships are defined. We will briefly discuss the most common (performance) management models.
Key characteristics of dashboards
Well-arranged, usually with a limited degree of interactivity;
Information needs are generally determined in advance in the form of KPIs, KRIs and PIs;
Displays the relationships within the business operations and is as such overarching;
Default design (interface) which users (or administrators in case of more complex matters) can customize;
Data are only refreshed (updated) when specific instruction is given by, for example, planning software or the user himself;
Mainly use aggregated Business Intelligence sources, including cubes, data marts and reports.
About dashboard tools
Dashboard tools are widely used to monitor information and key performance indicators from different perspectives. They provide a means for displaying information in a way users can easily see whether indicators need attention or not. This type of tools are often used to improve decision making and enhance the continuous improvement of business processes.
More advanced dashboard tools are also able to facilitate the communication process about the indicators between managers and employees.
List of dashboard tools
The following solutions, which include tools for dashboarding, are thoroughly examined on 169 criteria considered important for high productivity and dashboard systems that actually add value to your company. The tools below are listed in random order.
Dashboard tool
Version
Vendor
Dashboards
included?
Microsoft BI & dashboard tools
2014
Microsoft
✓
IBM Cognos Series 10
10.2.2
IBM
✓
Oracle Enterprise BI Server
11.1.1.6
Oracle
✓
Board
9.0
Board International
✓
QlikView
11.2
QlikTech
✓
SAP NetWeaver BI
7.3
SAP
MicroStrategy
9.4.1
Microstrategy
✓
SAP BusinessObjects BI
4.1/SP5
SAP
✓
Oracle Hyperion System
9
Oracle
✓
SAS Enterprise BI Server
9.4
SAS Institute
✓
BizzScore Suite
7.4
EFM Software
✓
Birst
5.13
Birst
✓
WebFOCUS
8.01
Information Builders
✓
JasperSoft (open source)
6.0
TIBCO Software
✓
Style Intelligence
12
InetSoft
✓
Pentaho BI suite (open source)
5.2
Pentaho
✓
Yellowfin BI
7.1
Yellowfin
✓
Tableau Software
8.3
Tableau Software
✓
** The niche players Spotfire, Longview (AKA Arcplan), Talend and Panorama software were not included in this list, because they did not want to fill in the questionnaire and the comparison cannot be done without the vendor's cooperation.
What are the benefits?
The benefits of dashboard tools are obvious. The people responsible for a business process or the company results can see in a blink of an eye how well they perform. Without having to care about definitions, data collection, data integration and visualization, all the information they need is there. Actionable information at the right time in the right format.
Which tools are the best?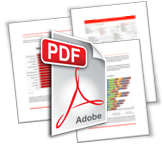 You might want to know which dashboards tools score highly on functionality, connectivity, usability and so forth. So you are able to select the best dashboard tool that fits your requirements. The Passionned Group, a leading consultancy and independent research company based in Europe, has created an up-to-date comparison of BI & dashboard tools and packed the results in a 100% vendor independent comparison report.