The focus is many times on the technical side
Most organizations tend to look at only one of the many facets of Business Analytics. Often the focus is on the technical side, or simple reporting, or possibly the internal organization, which is a pity, because Business Intelligence can add significant value in many areas: alignment with and influence on the external environment – things that are going on outside the organization, optimisation of internal processes, productivity improvements of both the people and the machines and last but not least more effective use of the technology and the mountain of data within our walls. The business case for Business Intelligence is both broad and varied.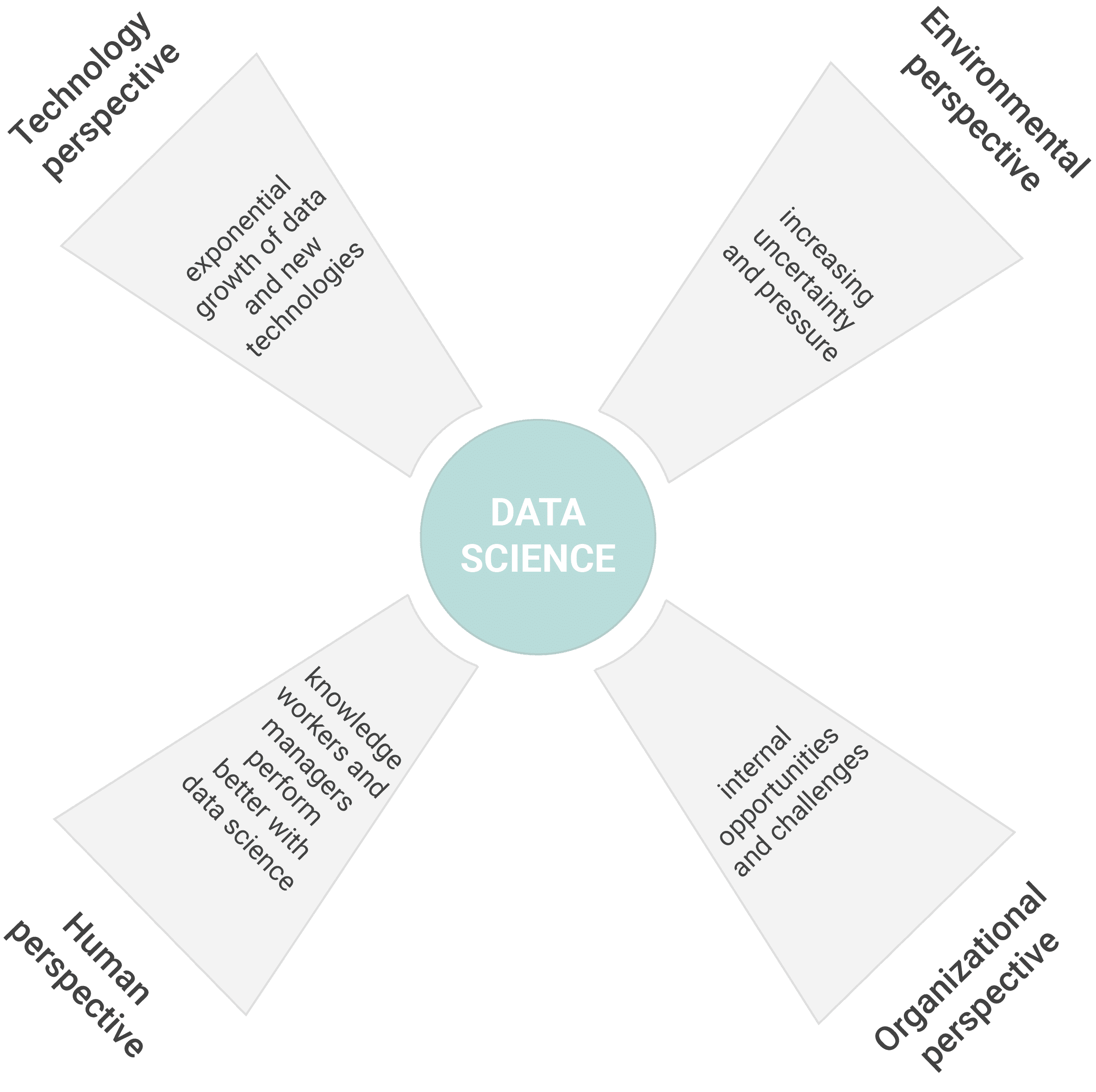 Source: Book Business Intelligence – The Intelligent Organization, 2014
The external perspective
The external perspective shows us the external trends that make Business Intelligence essential in the battle to survive in the modern economic climate. It show the enormous pressure and reflects the ever changing world that organizations have to deal with on a daily basis. The accent here is on reducing the (potential) risks which every organization faces when it loses sight of the environment it finds itself in and fails to adjust to altered circumstances.
The internal perspective
The organizational perspective highlights the opportunities that Business Intelligence bring to the table specifically "better customer intelligence and increased sales" and "a stimulus for better execution of the corporate strategy", mainly by using unambiguous definitions, KPIs that really mean something, and clear integrated customer information.
The human perspective
The human perspective is about the person both as knowledge worker and as someone who takes decisions, someone who has to perform increasingly complex tasks that require more and more knowledge, someone who is required to cooperate with others and all of the above at a higher tempo than before. Business Intelligence allows the productivity of the knowledge worker to increase, providing a better balance between use of facts and intuition when making decisions.
The technological side of BI
The technology perspective accents Business Intelligence from an information technology (IT) point of view. Business Intelligence when implemented properly can reduce the workload of the ICT organization and ensure that the ever increasing volumes of data don't lead to information overload. Organizations should however make the best possible use of the available (mobile) Business Intelligence tools.
If you would like more information regarding this business case and how it can help your organization please contact us.