Minne van der Sluis has been working as an Associate Partner at Passionned Group since April 1, where he devotes himself to issues related to Big Data, Data Science and Data Warehousing. "Big Data allows clients to improve their approach to their customers, products, and employees resulting in better processes and their outcomes and, ultimately, to make the leap to innovation. These are the actions I want to take."
Helping customers with data science
Minne (54) is someone for whom technology is important, and he has gradually grown in his advisory role with various IT-related consulting companies in recent decades. After studying Computer Science, he joined former BSO as knowledge engineer, and then he got a bit more exposure to business intelligence and data warehousing at IBM Consulting and Capgemini.
Then came Getronics PinkRoccade and Imtech. On April 1, as an Associate Partner he started to strengthen the Passionned team in order to especially assist customers in defining a strategy in the areas of data warehousing, big data, and data science. He also gives a three-day masterclass on those three subjects.
A consultant who has also worked behind computer
Minne can certainly be called a real expert. "I've used to do this sort of thing for ages – since data science was still called data mining, as a contractor and later more and more as an architect, designer, and management consultant. I've also done the actual job and have worked with data mining packages for Heineken and the Yellow Pages, for example. "
Action-oriented moving into the future
In the current BI environments, he sees many parts of the analysis landscape falling into place. "I feel that everything I've enjoyed in the past 25 years and that I have worked on with and for customers starts coming together in many mature business intelligence environments. Concepts and technologies that enable companies to do what we have always said should happen when it comes to BI, performance management, and data. I feel that we can now really realize that potential and really move into the future in an action-oriented way and take the step to data-driven innovation."
Examples: flip your business model with big data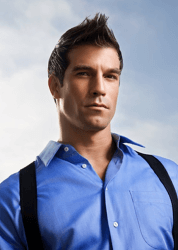 Netflix and the Amsterdam-Amstelland Fire Department are good examples of organizations that have taken the latest step: flip your business model with big data. He thinks IBM's Watson Analytics is another good example, on the technology side. "It's a kind of holistic system with knowledge engineering, natural language processing, big data, text analysis, structured information, data warehousing and data visualization, of course."
Using data and technology for process improvement and innovation
In his work for Passionned, he does not consider himself working just "behind the computer". "I think together with the customer on how different types of technology and data can be used to discover relationships that will eventually allow you to improve processes, increase your results, and to view your customers, your products, and your employees in a smarter way. Those are the strides we want to make as Passionned. So, how can you now use the technology and concepts properly and what is the real business value of it." Van der Sluis thinks that this means also preparing business cases, thinking together about architecture, versatility, and governance.
External data and open data
Such a business case also increasingly includes using external data and open data. "Google, Facebook, and Twitter offer interesting data for a fee, but there are more and more providers of data, such as path information or mobile data. The use of external data does not necessarily means taking always what you can take, but also thinking about working with parties who can also benefit from it as a data provider. And it's our role to think together with them about those types of business models." Another important trend for him is using analytics in the cloud. "Thus, you are up-to-date with technology, as with an on-premise approach you might not always be able to keep up with changes."
Data Warehousing & Big Data Masterclass
The masterclass given by Minne is primarily intended immerse people into depth of the performance management field. "This is true, for example, for people who work with a data warehouse, but wonder whether they should also consider external data and social analytics.
Or for the BI manager or the CIO who wants to take the next step in the data and innovation side, and this is in the full range of data warehousing, big data, data science, and everything in between, including master data management, data quality, and governance. The program implies available room to get deeper in parts, based on the needs of the group."
Learning things in parts and at a whole
Minne says he has the opportunity to spread his wings at the Passionned Group. "Because Passionned's structure offers me a number of tools that I need to be successful. I was looking for an environment of people from whom you could learn things in parts or at a whole and who are really open to taking things I could contribute on board."
Minne van der Sluis is an Associate Partner at Passionned Group, your sparring partner for data science and big data. He can also be reached via LinkedIn.