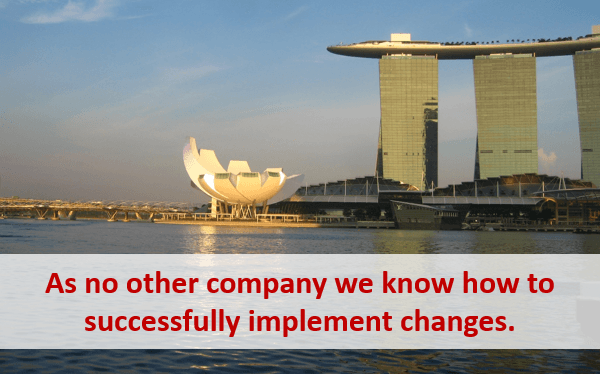 You as manager/director face the challenging task of making an implementation a success. You also know how difficult that can be because many factors can hinder the success of an implementation. Everything can be technically fine with the system, but difficulties can be expected on the horizon when the skills and behavior are not properly aligned to it or when there is insufficient support. Our experienced implementation specialists are pleased to assist you in the successful implementation of changes and improvements.
Many implementation and change projects fail due to
no clear vision of the change or no behavior objectives
no agreement on strategy or the need for change
lack of confidence or no confidence and no safe learning environment
complex organizational structures or complicated processes
the lack of effective management of the change process
faltering project management
poor operating results
It is known that about 70-80% of the implementation projects will not achieve the desired results, or even completely fail due to this. Reason enough to address the change comprehensively!
What are important aspects for a successful implementation?
Our integrated approach and roadmap therefore takes into account the most important aspects to enable a successful implementation. Whether it is about implementing a Business Intelligence system, or implementing a new strategy, or the implementation of continuous improvement with the PDCA cycle and KPIs. Our goal is always to make your business smarter. We list five aspects that are important for a successful implementation.
Business objectives: is it clear to all employees and managers how the implementation will contribute to the objectives?
Organizational strategy: it is clear to everyone how the implementation supports the (new) strategy?
Processes: how should the new/modified processes be run, what changes are important here, and are the roles in it clear?
Systems: at what points in the process are employees supported by the IT system or the Business Analytic software, and where are they not? Where are any obstacles that may hinder implementation?
Skills & behavior: what skills are the staff required to have after implementation?
Of course, the emphasis on these aspects can differ by implementation project. Sometimes the emphasis is more on technology, in other cases the process-based or behavioral side prevails. That is why we always deliver customized work in the form of an implementation plan. An important part of this is to provide the right training to the right people, which we completely customize and provide to you in-house.
What are typical implementations we provide for you?
With over 10 years experience with implementations for small and large organizations, you can count on our expertise and experience in the:
An initial implementation can be achieved within 3-6 months, depending on the size and complexity of your business and your level of ambition.
Start immediately with an implementation?
Please contact us for an appointment for a no-obligation introductory meeting with one of our implementation consultants.