Making organizations work a lot smarter. That is the passion of Daan van Beek. He advises & facilitates companies and governments on the area of smart Business Intelligence and the Intelligent organization.
He studied Organizational IT at the Open University and then proceeded to gain his Master of Science degree in Knowledge & Information Technology at the Middlesex University in London. Daan is the author of the management book 'The Intelligent organization' (3rd edition), founder of the Passionned Group and he now fills the function of managing director.
Daan as an advisor
His strength lies in helping employees and managers in a practical and professional manner in learning to improve performance. By consistently pushing towards valuable insights and the right KPIs and then securing those in an improvement cycle, a lot can be improved. He is also an expert in the field of optimizing the User Experience (UX), Business Intelligence frameworks, BI architecture and selecting business intelligence software.
Daan as a lecturer / workshop leader
Daan gives guest lectures, (among others) at the Rotterdam School of Management, Tilburg University (TIAS) and provides masterclasses on Business Intelligence in Europe, Asia, Africa and New York. He has extensive experience in the following sectors: healthcare, retail and pharmaceuticals, (local) government and insurers.

Daan is lecturer of several courses & masterclasses
Daan van Beek takes care of a number of programs within the Passionned that may be of interest to you. The 3-day master class BI, which he handles with Isaac Shawky, is definitely a must if you want to score with BI / Analytics.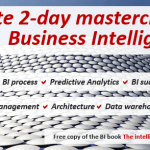 In two intensive days you will get acquainted with all the business intelligence aspects that are needed to successfully implement BI process improvements. People who completed our 2-day BI training are perfectly equipped to take
read more...
Our 10-day Master of Data Science training is for anyone who wants to bring Data Science into daily practice and provide a boost to his career. In 10 intensive days, you will be immersed in the field and readied for a leadership position
read more...
Daan as an author
He likes to write and is author of the book 'The Intelligent Organization' (already the 3rd edition) and 'Pushing towards a smart government'. He is currently working on a new book on Business Intelligence & PDCA. He is a member of the jury for the election of the 'Smartest organization in the Netherlands' and regularly speaks at seminars and conferences.

A selection of his books:
Daan is an avid writer and literally lives off of the letters. He wrote several books and has more than 50 publications on his name. A selection of his work:
Do you also want to realize efficiency improvements?
Would you want to turn your company in a real intelligent organization and achieve substantial efficiency improvements in your business? If so, please feel free to contact Daan van Beek.