Visualize & improve with Business Process Management
Many managers, directors, and process advisors wonder how they can design an optimal process quickly and effectively. We do this using Business Process Management (BPM). This involves many different aspects, which may make it seem complex.
Process management training
Learn how to deploy process management as a powerful tool for change and improve your business processes. Translate new trends and developments into a competitive strategy, optimal processes, a new design, and a flexible process architecture.
to the process management masterclass
Do you recognize these BPM challenges?
If you want to design new business processes, you may recognize the following challenges:
Shorter life cycle: product life cycles are becoming ever shorter. What does this mean for how to design processes?
Agility: apps, the Internet of Things, and new regulations force organizations to stay agile. But from the perspective of maintaining control, stability is important. How do you maintain a grip on your processes while making them more flexible?
Labor division: the division of labor – tasks, roles, authorizations – has to be attuned to the process design. But what does this mean for the labor division, and how can you convince people of the necessity?
IT landscape: what do these changes mean for your IT systems, and how do you minimize the impact of these changes on your IT landscape?
Improvement methods: there are countless improvement methods, but which one best matches your organization (culture) and situation?
If you're facing one or more of these challenges, our process management specialists can help you reach the next step.
Process management is more essential than ever
Processes often run on autopilot, or they take too long or stagnate. The process design leaves something to be desired when:
lead times are too long and there's too much waste.
you need a greater degree of control to achieve the desired output.
you have to manually copy a lot of information, and there are many iteration cycles (rework).
reaching the desired level of service requires a lot of work and buffering.
many exceptions and special cases disrupt the process flow.
If you recognize one or more of these symptoms, it means that your organization has a lot of room to grow when it comes to becoming more intelligent. Business Process Management is just the thing you need.
10 success factors for process management and agile processes
How do you make your organization more intelligent, with more effective, data-driven, and agile processes? What does your organization need to be capable of? Process management won't really pay dividends until your organization meets certain conditions and focuses its senses intelligently. The following 10 success factors pave the way for successful business process management:
Think in processes and roles instead of structures and functions.
Shape the organization around customer processes and processes of other stakeholders.
Add value for your customers in every step of the process: Lean improvement.
Measure the value you're adding with essential KPIs.
Focus on reducing mistakes and improving quality.
Implement a continuous learning and improvement cycle such as PDCA.
Test your processes based on your organization's mission, vision, and strategy.
Implement: a process model without implementation is worthless.
Develop the process-oriented competencies of your employees and managers.
Pivot the organization: fewer management layers, more shared responsibilities.
Customer case: process management at The Hague municipality
The process of requesting household help at the social affairs department at The Hague municipality took 6 weeks on average. It took 6 weeks for the city to make a decision about a request.  The situation as it was:
Employees frequently hand-copied information.
Tasks and responsibilities weren't always clear.
Citizens would frequently call to ask about the status of their request.
They were often given the runaround from pillar to post.
Comprehensive process analysis
After a comprehensive process analysis, Passionned Group's improvement team discovered ample opportunities for business process management. We inspected, among other things, the policy, IT systems used, labor division, and work flow. We helped the city redesign the entire process, top to bottom. Then we started to implement the new process. The results speak for themselves:
80% of all requests are now processed within 4 hours, the rest within a week.
100% of the simple requests are now fully automated.
They managed to save 600,000 euros in the first year alone.
They completely eliminated randomness from the decision-making process.
High agility: the ability to implement a new policy within 2 weeks.
Many more satisfied customers.
A clear example of process management making all the difference in the world.
Cohesion between processes, organization, management, IT, and strategy
Processes don't stand alone. They have to support the organizational strategy and keep the organization manageable. IT also supports the processes and the people who execute them. The customers' needs should be front and center under the new process design.
All in all, a lot to consider. That makes process management complex, which can make projects like this tough. Our comprehensive approach is meant for organizations who want to improve the cohesion of processes. A process architecture is a useful tool to visualize and discuss the cohesion.
Process thinking and process management
A very important aspect of process management is learning to think in terms of processes. Countless discussions and research revealed that there's still a lot to gain here. Many employees and managers still think in terms of departments and teams, where the process and the customer aren't central. A new perspective is needed.
The process perspective
The key is thinking and acting from a process perspective, not from a static organization that consists of a rigid structure of departments and functions. You have to learn to think from the primary process and underlying processes and roles. This is a meaningfully different approach to activities, roles, behavior, and customers.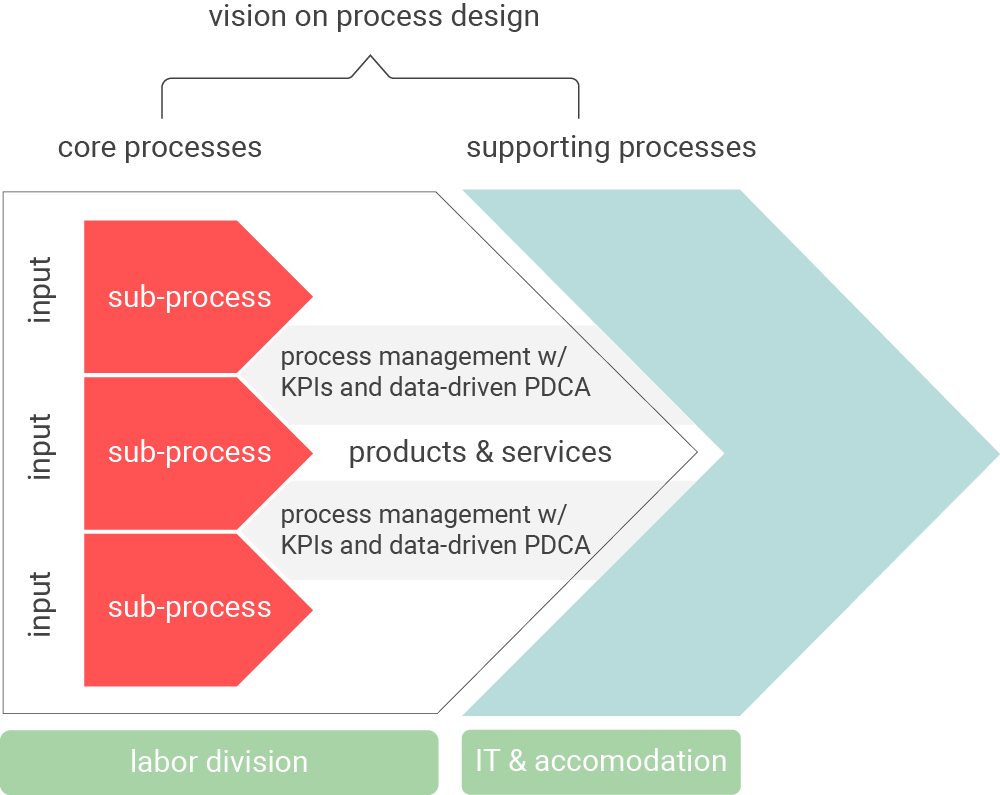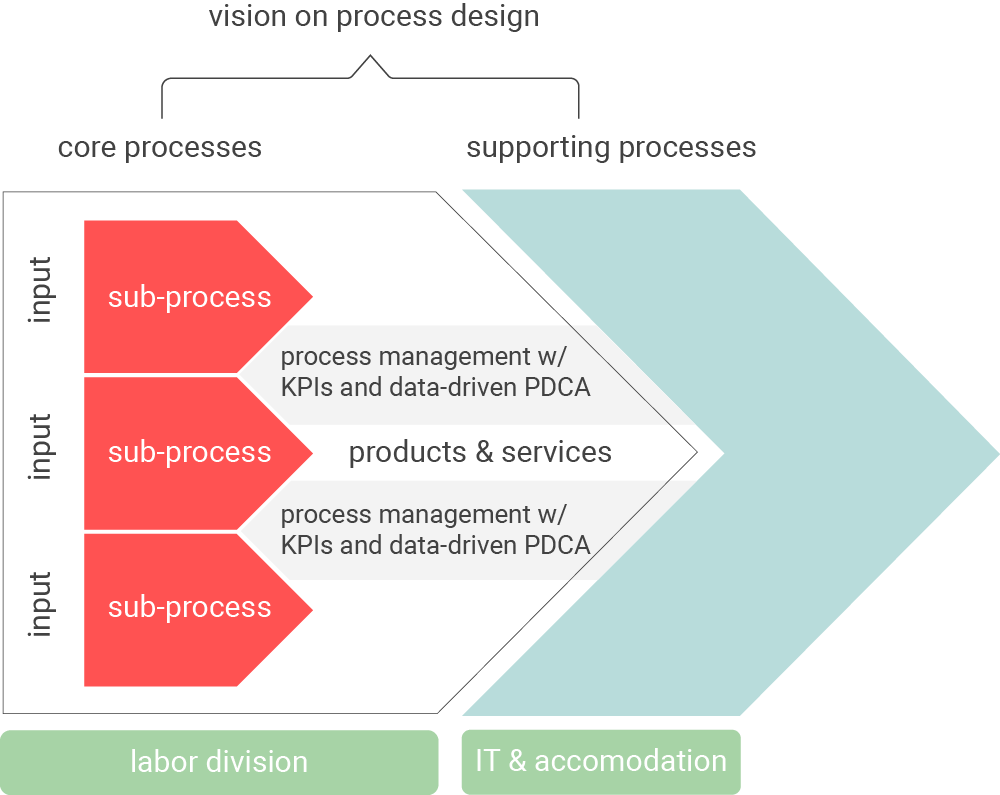 Figure: Business Process Management design, where the vision on process design is the first important step.
Describe your process
"If you can't describe what you are doing as a process, you don't know what you're doing."
William Edwards Deming
Inventor of PDCA
Types of processes
On an organizational level, two types of business processes can be distinguished:
The core processes: these are the processes that run from customer to customer. This is where concrete requests and orders come in, and you process them.
The supporting business processes: the processes from departments like the financial administration, IT, accommodation, and HR.
Within the secondary business process, you can discover another primary process that runs from customer to customer. In this case, the customer is internal. In this way, you can always stay in the primary business process and clarify your customer/vendor relationship.
Is your organization really customer-focused?
International research shows that 70% of employees believe that their organization is customer-focused. If you ask that same question to customers of the organization, only 8% of them will say that the organization is customer-focused. This discrepancy explains many organizational problems. Most organizations have a lot of room to grow and become more intelligent.
Definition: business process
A business process is a succession of cohesive activities. A process has a goal: delivering a product or service. Activities can be performed in sequence or parallel. Between the different activities there are hand-off moments, for example from Team A to Team B, or from the production planning department to the factory.
Process thinking starts with the customer
Process thinking starts with your customer: go through your process from their perspective. And lead with your business strategy. These two things are the starting point of an integral vision on the process design. There are various definitions of process management. The differences are mostly rooted in a specific vision on process design. Regardless of what definition you want to use, a sound vision on process design considers all the essential elements of a business process.
Do you want to successfully implement process management?
Passionned Group has over 15 years of experience in redesigning and improving processes in various sectors. Using a variety of solutions and our data-driven approach, we can help you successfully implement process management in your organization. So that you can achieve a greater return on investments in people and resources.
If you want to spar with us about process management, contact us freely. We'd love to tell you more about our comprehensive, data-driven approach and the results you can expect.