Pentaho is one of the open source Business Intelligence vendors in the market providing an Enterprise Business Intelligence platform. Discover their BI tools and functionality and how it compares to other BI tools (open source & commercial).
Company characteristics
| | |
| --- | --- |
| Founded in | 2004 |
| Headquarters | Orlando (US) |
| CEO | mr. Quentin Gallivan |
| Market penetration | Approx. 1,200 customers |
| Resellers EU | 34 |
| Resellers worldwide | 55 |
| Employees | 201 – 500 |
Pentaho offers the following BI components / tools:
Pentaho Business Analytics
Pentaho Big Data
Pentaho Data Integration
Embedded Pentaho Analytics
The three strongest points according to our survey
Total Value: tightly coupled full business analytics with data integration provide an open user-driven business analytics platform that brings IT and Line of Business that speeds time to business insights.
Big Data management and analytics: Pentaho's big data support covers a broad spectrum of big data sources including Hadoop, NoSQL databases, and high performance analytic databases. Pentaho makes it easier and faster to use Hadoop, NoSQL and high-performance analytical databases, without the complexity and steep technical barriers to adoption.
An open, pluggable, extensible platform for software and SaaS providers to easily embed: Pentaho has numerous OEMs, partners and customers who have rebranded, embedded, and enriched applications with Pentaho. Pentaho's platform has a standards based well-defined plugin architecture for extending/replacing platform components
The three weakest points according to our survey
Breadth of platform can be intimidating for companies new to BI
Lack of packaged vertical solutions (or templates)
Feature Documentation
Pentaho on the web
How to position Pentaho in the market?
According to our survey (sentiment analysis) Pentaho is from origin a pure (enterprise) BI vendor but today they pretend to do mainly Analytics: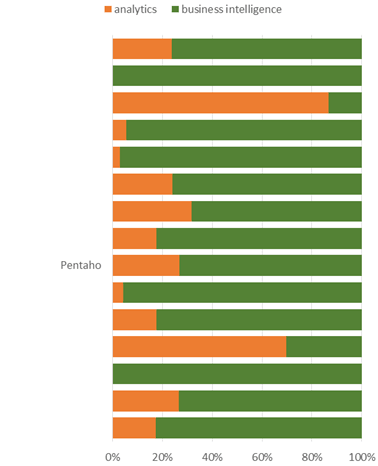 Figure 1: % of tweets related to BI or Analytics with respect to the vendor Pentaho
The company doesn't provide any analytical application out-of-the-box. Take a look at the other vendors.
Expert verdict
"Pentaho is the best known and probably the most used of the open source Business Intelligence products. With 8,000 customer installations they are now positioned at the lower end of the middle sized BI software suppliers which include companies like MicroStrategy and Qlik. They score relatively well in the categories of usability, performance and security which is essential for expanding their market share."
Pentaho's Product Architecture
Pentaho Business Analytics (including Data Integration) is a 100% java based platform with strong adherence to open standards including Spring, XML, SQL, MDX, XML/A, etc.
The Pentaho BA server is most commonly deployed as a Java web application (residing in a container like Tomcat or JBoss) and provides a central location and services for publishing content, security integration, administration, ESB integration, and execution of content (ETL jobs, reports, etc.).
End users (i.e. Business Analysts, Information Consumers, and Content Creators) access the BA Server through the thin client User Console, which provides access to reports, dashboards and interactive analysis views. The User Console also provides simple design tools empowering all users to create ad hoc reports, dashboards and analytic views.
Desktop power tools are provided for more advanced users (i.e. architects, solution designers, data stewards) including Report Designer for pixel-perfect report layout, Data Integration designer for authoring ETL jobs, and Metadata Designer for sophisticated metadata modeling (Reporting and OLAP) that shields end users from the complexities of SQL and MDX when creating content.
The Pentaho platform is architected for extensibility with well-defined plugin architectures for extending the platform – examples include: integrating 3rd party visualizations, custom connectors to data sources/applications, integrating with various security infrastructures and more.
Pentaho is most commonly deployed as a J2EE web app and can be scaled up or out using standard load balancers and J2EE clustering capabilities.
For even greater performance and scalability, we have a pluggable caching layer in our OLAP server that allows customers to take advantages of some of the recent innovation in data caching architectures including big memory and distributed caches.
From a Data Integration and ETL standpoint, Pentaho Data Integration is fully multi-threaded engine with a scale out architecture that allows you to define clusters of Pentaho ETL servers or leverage the Hadoop MapReduce framework for extreme ETL scalability.