What is QlikView?
QlikView is a well-known Data Discovery tool. In the world of Business Analytics this solution has become a household name. It came to the general public in 2001 with a totally different approach than traditional BI tools like Cognos and BusinessObjects. The set-based and visual approach made this tool one of the most user-friendly BI solutions. Our experts and developers know better than anyone where to position QlikView and how to deploy it successfully.
We've been following the business intelligence market closely since 2007. Every year we release the Business Intelligence Tools Survey. Using this survey, you can very quickly get to a shortlist and a final selection for the purchase of QlikView, or perhaps another BI solution. Qlikview and 18 other solutions are thoroughly reviewed in our survey.
Download now
.
Who is the supplier?
QlikView's supplier is Qlik, formerly known as QlikTech. They started in 1993 and have been publicly traded and have tens of thousands of customers around the world. The first version was called Quik, which stands for Quality, Understanding, Knowledge, and Interaction. We consider that a concise summary of what Business Intelligence is, at its essence. Later, the name was changed to QlikView. The vendor now sells many other software products, such as Qlik Sense, nPrinting Reporting, and QlikMarket. The further development of the data integration solution QlikView Expressor, which was acquired by Qlik a few years ago, has been cancelled. Qlik's focus is now entirely on Data Discovery and Self-Service Business Intelligence.
What is QlikView?
The most eye-catching features of QlikView are:
Browsing through data in an intuitive way, set-based; users can, for example, see what customers didn't buy at a glance.
Outstanding data visualization capabilities with many types of graphs. It also has options for designing your own charts and sharing them with the Qlik community.
Build interactive dashboards for different audiences in your company.
A proprietary scripting language to load (combined) data and clean it up. This language is completely different from the standard SQL.
In-memory technology, which enables fast response times.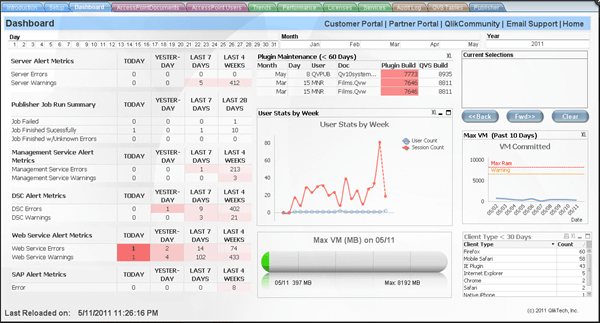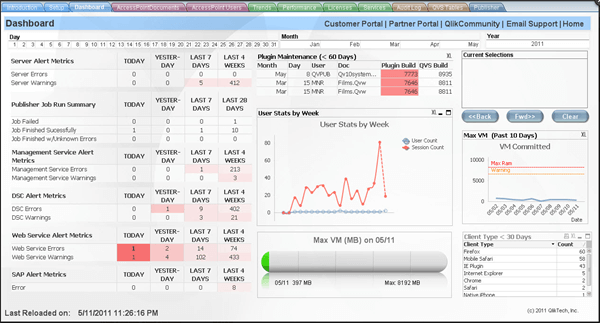 Figure: QlikView Dashboard

What are Qlikview's weaknesses?
Most vendors prefer not to talk about what they can't do or what their weak points are. But before purchasing QlikView, it's important to know what those are:
It doesn't have extensive reporting capabilities integrated into a complete suite of reporting, analysis, dashboarding, and advanced analytics.
Can't cope well with cloud technology. According to the people we spoke to, however, this is only a matter of time.
The solution does not provide predictive analytics functions such as data mining and text mining. Building predictive models including Big Data is also not possible.
Management models such as the Balanced Scorecard methodology and strategy maps are not explicitly supported. From a performance management perspective, this is a disadvantage.
Strategic positioning
How should you position QlikView relative to the other solutions that are available on the market? QlikView isn't the most comprehensive solution, but one of the most user-friendly ones. For very large amounts of data or large numbers of users, you'll quickly encounter limits. Other solutions are better suited to these challenges. We're seeing that QlikView is used by smaller companies or departmental level in larger organizations. The Passionned Parabola BI & Analytics shows you the strategic market position of QlikView and its supplier Qlik at a glance.
QlikView compared with other BI tools
If you're considering using QlikView, you should first consult our independent Business Intelligence Tools Survey 2019. It not only compares all the features of the Business Intelligence tools, but with the many comparison graphs it provides a quick insight into the strengths and weaknesses of QlikView. This unique BI guide is essential if you're considering QlikView and want to compare it to other solutions, and it's available through our website.
Looking to purchase QlikView?
You can purchase QlikView (online) and download it through numerous sales channels. QlikView is available in many languages ​​and outlets can be found throughout the Netherlands. In the case of bigger licensing purchases, we advise you to contact one of our specialists. Previous negotiations have shown that we can often negotiate a substantial discount or improve the conditions of the contract. QlikView acquisition costs may not be the biggest expense but may return on your expenses every year.
Other BI tools
Are you considering purchasing a BI tool, but are you not yet convinced that QlikView is the best solution for you? Then let yourself be inspired by other Business Intelligence suppliers.
QlikView expertise
If you want to get started you'll need QlikView developers to build dashboards in QlikView. Acquiring these people is not always necessary. Our interim services will help you build the necessary QlikView knowledge and capacity when you need it. So you can get started quickly and achieve success.
Storetelling capabilities are also present
Integrated in the software is Qlik's data indexing engine which helps users to find hidden relationships in their data. Storytelling capabilities are also present. There is no limit to the number of apps that can be created with the Sense Desktop. Novice users are accommodated, they can get started with using business intelligence by for example dragging an Excel document into the application. Other data sources are supported as well.
Rapid visual reporting & visualization
Qlik wants to address the widespread desire for rapid data visualization, dashboards and visual reporting with Sense. Multiple data sources can be brought into the Sense app, from simple Excel files to ODBC accessible databases. Dashboards for (extended) visual analysis can be created in minutes by dragging and dropping.
Smart search
The Qlik data indexing engine allows users to dynamically explore, associate and combine information. Smart search offers an easy way to begin an analysis of the entire data set by simply typing a word or number. The feature Intuitive Smart Visualizations offers cues that help users to explore patterns as new information and associations are highlighted and updated dynamically.
Want to learn more about Qlik and Business Analytics?
Besides QlikView developers, our advisors and experts are also happy to help with many services such as Business Intelligence training, advice, and a well-stocked knowledge base. A total package of (independent) services that will help make Business Analytics a success in your organization. Please contact us to discuss the possibilities.