BI tools comparison
A unique comparison is made between OBIEE vs Business Objects by the Passionned Group, an analyst & research company based in Europe. They compared 16 business intelligence & reporting tools on more than 100 criteria.
Which one is better?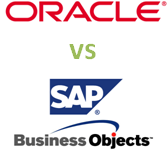 OBIEE and Business Objects score almost equal points in the Business Intelligence tools comparison Survey 2019. In one area OBIEE scores just a bit better: infrastructure and architecture. And that is not really surprising because Business Objects was introduced in the client/server era where the first version of OBIEE, formerly known as Siebel Analytics, was released in the era of the internet.
Business Objects still has some legacy
OBIEE has complete zero footprint capabilities where Business Objects still has some legacy in it. I have worked with Business Objects for many years. At the moment they released their first version for the web, WebIntelligence, I was really happy because my IT boss didn't like 'fat client' software. But this first web version had a few major drawbacks regarding performance and scalability.
After a few months experiencing Business Objects WebIntelligence I became knowable of what they had done to enable the Business Intelligence software to run over the internet: they build some kind of webservice around the 'old' fat client which had to be installed on the server! It took a lot of internal memory and because of that it seriously limited the number of active users.
OBIEE was designed for the web and had from the beginning an excellent scalability. Over the years, the difference on this aspect has been almost faded out, but some fat client legacy remains still in the Business Objects suite. So if you want to run reports and dashboards for a very large number of users you will probably be better of with OBIEE, SAS or WebFOCUS.
A truly independent comparison between OBIEE vs Business Objects
Not only OBIEE vs Business Objects can be compared with the Business Intelligence Tools survey at hand. Eighteen other Business Intelligence tools have been thoroughly evaluated by our experts on selection criteria that can make a real difference in choosing the right software for your company. A lot of customers are using the survey to reduce a large list of BI tools to a short list of two or three Business Intelligence tools. Other customers use it for choosing the BI suite that met their requirements the best.
More in this series
There are several other comparisons made by the research and consulting firm Passionned Group like:
If you want help in the selection of a BI tool/platform, you may contact us for business intelligence consulting or tool selection. In addition we provide in our unique Business Intelligence training all the insights you should know to select the best BI tool for your organization and it will help you also to achieve more success with Business Intelligence tools. The evaluation between OBIEE vs Business Objects is 100% vendor independent. Vendors do not have to pay to be included.