Better Management Information charts a course to improvement
Any manager, director, or controller, understands the importance of KPIs and good management information in effectively steering teams and the organization. You need them to make decisions based on facts and data instead of gut feeling and opinions. But if you have them, how can you be sure the facts and KPIs are unambiguous and SMART (Specific, Measurable, Acceptable, Realistic, and Timely)?
The Definition of Management Information
"Information that gives insight into the development and performance of processes, people, resources, and capital, and the knowledge to control, course-correct, and develop the organization."
Source: "Data Science for Decision-Makers"
Excel is useful, but not the smartest solution
Generating the right insights from a myriad of data sources is no easy task, and it's very labor-intensive. Excel isn't the smartest solution to this problem, because spreadsheets are prone to error. 95% of all spreadsheets contain one or more mistakes. Several questions keep recurring when compiling management information:
Does your organization struggle with one or more of these questions? Our specialists can help you find your way quickly.
Customer testimonial: fast and seamless
"It looks great and I'm happy with the results Passionned Group achieved. Everything went quickly and smoothly."
Jan Maarten van der Meulen
PwC
Why making management information is complex:
Often, results manifest in an overwhelming battery of reports and far too many indicators.
Unclear definitions, resulting in decision-makers getting stuck in endless discussions.
Management information has to be paired with strategic goals.
Decisions are postponed because of a lack of insightful analysis of the management information.
The data quality leaves something to be desired, making the information unreliable to decision-makers.
As a consequence, it's impossible to effectively (self)steer, and margins get watered down quickly. Without a foundation for Business Intelligence, these problems will keep cropping up, and often at the most unfortunate times.
Do you recognize these challenges? Then it's time to get acquainted with our comprehensive approach to generating and using management information effectively.
3-day Business Intelligence & Management Information course
If you want to make steps towards continual improvement using management information and business analytics, our 3-day BI & MI training course is highly recommended. Learn how to define the right KPIs and gain genuine insights and achieve success.
Integral approach: 10 steps to successful implementation
Our approach is characterized by a combination of expertise, interaction, and quick results. Our experts work thoroughly and pragmatically and deliver high-quality management information.
Phase 1: Awareness and designing Management Information
Step 1: The first phase starts with an intake and, optionally, one or more awareness workshops and training courses. We'll develop a vision for management information so that everyone is on the same page.
Step 2: In follow-up workshops, we'll define the Key Performance Indicators (KPIs) and the so-called high-impact insights. Three aspects are critical here: your strategy, your processes, and the roles inside the organization.
Step 3: We develop the results of step 2 and document them in a functionally designed, aesthetically pleasing dashboard.
Step 4: We recommend making a prototype so that users can get a clear picture of the possibilities.
Step 5: We round out this phase with a plan of action for phase 2.
Phase 2: Building, training, and coaching
Step 6: The build team starts working based on the functional dashboard design. They describe the necessary data sources and store them in a database, usually a data warehouse.
Step 7: The organization chooses one or more BI tools and purchases them. The build team uses these tools to make clear dashboards and reports. We let the users test them first, of course.
Step 8: We train the users and coach them in consistently using the management information.
Step 9: We couple the indicators and insights to the tasks, authorizations, and responsibilities of the employees.
Step 10: We design a feedback system to allow the teams to continually learn, improve, and innovate.
Just for Managers?
Some people still insist that management information should only be intended for management's eyes. We think that's nonsense. Indeed, management information should be shared with as many people as possible: employees, customers, and suppliers. This allows everyone to contribute much more, and you'll accomplish more when optimizing certain processes. This requires access to high-quality management information. Of course, this transparency can't be realized overnight. The teams, but especially management, will have to get used to this shift.
The SMART KPI Toolbox
This tool will help you determine what the Key Performance Indicators for your organization are. The SMART KPI Toolbox will give you an immediate answer to the question "is this indicator a KPI or not?". Order the SMART KPI Toolbox now and improve your management information.
The definitive book on MI: Data Science for Decision-Makers
In our complete management book Data Science for Decision-Makers & Data Professionals, the entire spectrum of management information is discussed. The goal: better management, optimizing processes, and making the organization substantially more intelligent. A proven model that we've been successfully working with for 15 years that's continually iterated, expanded, and refined.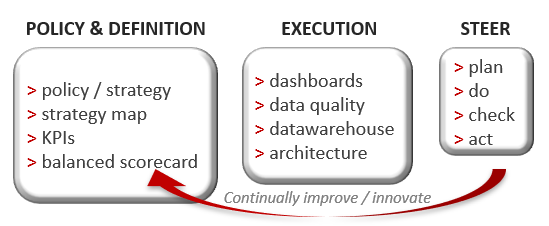 The benefits of high-quality (management) information
✓ Higher quality service and more successful (self)steering.
✓ Clear definitions lead to more dialogue about the actual numbers.
✓ A solid foundation to make the right decisions faster.
✓ A useful tool to follow and steer improvement cycles continually.
✓ A more intelligent and agile organization.
And, let's not forget: no more Excel abuse. Get rid of those excess spreadsheets!
Download the SMART KPI Toolbox or follow a training course
SMART KPI Toolbox: The SMART KPI Toolbox allows you to easily determine what your organization's KPIs are, so you can steer your organization based on the metrics that really matter.
Training course: If you want an interactive and pragmatic course, our Business Intelligence courses come highly recommended.
Choosing BI Tools
BI Project managers have difficult choices to make. A new BI platform has to be chosen.
We've developed a 100% independent BI tools guide: the Business Intelligence Tools Survey. This guide helps you make an educated choice when selecting BI tools suited to your needs. Based on more than 4000 facts.
Continually improve information quality
Research shows that you can substantially improve the quality of management information in the following ways:
✓ Dashboards and reports for specific target audiences and roles.
✓ The amount of reports: not too many, nor too few.
✓ Smart use of color, good graphs and other data visualizations.
✓ Standardized report layouts.
✓ Interactive analysis possibilities.
✓ Clear explanation of the information (legends, definition manual).
✓ Thorough information analysis.
These factors are essential in getting high returns on your management information. This is proven by our research of 400 large organizations.
Perspective planning & control & PDCA
Good management information enables better cooperation between departments and teams. The different levels in your organization can also work together more. You'll get a better grasp and more control of your processes, allowing your organization to work more efficiently.
Score together faster using the same definitions
Employees and managers who use the same definitions can score together, faster. The organization will steer based on the same indicators and definitions across the board. This gives your organization greater control, while at the same time creating more room for creativity.
Use an improvement cycle
We highly recommend embedding management information in an improvement cycle like the Plan Do Check Act cycle (PDCA) by Dr Deming. This enables great opportunities for control and continual performance improvement.
Create measurements for management information
Contact us for an appointment with one of our advisors to discuss the possibilities of improving management information in your organization.